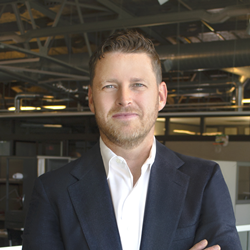 AUSTIN, Texas (PRWEB) December 04, 2020
Christian Owens, AIA, NCARB, LEED AP BD+C, has joined Pfluger Architects as Principal, Director of Design.
A graduate of Texas Tech University, Owens has two decades of experience designing a broad range of project types including K-12, higher education, healthcare, and commercial facilities. His passion for creating positive and healthy surroundings goes beyond the built environment to include his leadership style by promoting curiosity, enthusiasm, and confidence.
Christian places a great deal of value on thought leadership that contributes to expanding educational design concepts across the educational spectrum. As a member of the Autism Treatment Center of Texas Board of directors, he has found a niche in studying the design of learning spaces, furniture, and technologies to benefit individuals with Autism Spectrum Disorder.
"We are excited to welcome Christian," said Brad Pfluger, President of Pfluger Architects. "His collaborative nature and passion for research make him a great fit for us. His experience designing award-winning projects across project types will help to continue elevating the overall design aesthetic for our firm."
His award-winning projects in the last decade include 2018 American School & University's Architectural Portfolio, Outstanding Design, Athletic Complex, Del Valle ISD; 2017 Livable Buildings Award, UC Berkeley Center for the Built Environment, Cele Middle School, Pflugerville ISD; 2017 TASA/TASB Caudill Award Finalist, McKinney North High School, McKinney ISD; 2016 TASA/TASB Design Award, Dearing ES, Pflugerville ISD; 2015 AIA Design Award, Lytle Elementary School, Lytle ISD; 2015 TASA/TASB Caudill Award, Lytle Elementary School, Lytle ISD; 2014 TASA/TASB Caudill Award, Cele Middle School, Pflugerville ISD; 2013 American Institute of Architects Design Award, Lytle Middle School Addition and Renovation; and the 2010 Texas Society of Architects Design Award, Kurdistan Iraq Transformational School.