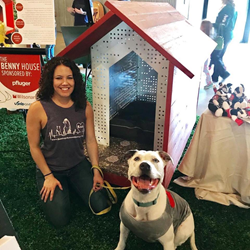 AUSTIN, Texas (PRWEB) November 08, 2018
Pfluger Architects' Kelsey Snider and her team developed the Best of Show winner for the 2018 Austin Barkitecture, hosted by Animal Lovers of Austin, Inc. This year's event benefits PALS, Emancipet, and Bastrop Animal Rescue. The Benny House was designed for its namesake, Benny, a BAR rescue dog fostered by Snider.
The house boasts a large-scale layout with a modern chic vibe that would accommodate any size dog. The house has a quartz floor and solar-powered fan for those hot Texas days and was designed for easy cleanup by simply hosing the whole thing down.
For the second year in a row, Pfluger has participated in Austin's Barkitecture event. Pfluger's team designed and built this year's house in partnership with Wilsonart and UShip Gives.
Barkitecture events across the country raise money for local animal welfare organizations. Companies and organizations build luxury doghouses that are auctioned off to the highest bidder. All proceeds from these sales go straight to animals in need. This year, Benny was one of the lucky dogs chosen as a beneficiary of Austin's event.
About Pfluger
Founded in Austin, Texas in 1973, Pfluger Architects plans and designs educational facilities that engage and inspire. With offices in Austin, Houston and San Antonio, Pfluger has completed more than 450 projects totaling more than $1 billion in the last five years alone. Pfluger is committed to the responsible use and management of energy and natural resources by recommending locally sourced products and efficient building systems that meet client needs and budgets.