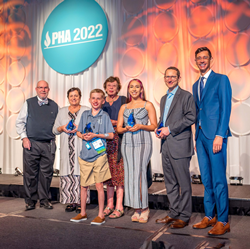 ATLANTA (PRWEB) June 22, 2022
The Pulmonary Hypertension Association (PHA) honored seven remarkable individuals on June 11 at an awards ceremony held during the PHA 2022 International PH Conference and Scientific Sessions in Atlanta.
PHA's Outstanding Member Awards recognize those who have exemplified dedication and service to the pulmonary hypertension community and PHA through volunteer efforts in patient and caregiver support; advocacy; promotion of quality patient care; and dedication to advancing pulmonary hypertension (PH) research.
Awardees included health care professionals, caregivers, PH patients and PHA support group leaders. See the full list of awardees below.
Julie Paton Hendry Memorial Scholarship: Betty Lou Wojciechowski
Betty Lou Wojciechowski served on the PHA Board of Trustees for 20 years and has been a support group leader, consultant and PHA fundraiser. Her husband Jerry and all four of their children were diagnosed with pulmonary arterial hypertension (PAH). Betty Lou is a retired elementary school teacher who lives in Southern California. She continues to advocate for the PH community.
Outstanding Physician Award: Steven M. Kawut, M.D., M.S.
Steven M. Kawut, M.D., M.S., is the director of the Pulmonary Hypertension/Pulmonary Vascular Disease Program and professor of medicine and epidemiology at the University of Pennsylvania's Perelman School of Medicine. He is recognized as a leader in promoting excellent clinical care, research, education and advocacy on behalf of PH patients. Dr. Kawut has published over 300 papers and is currently funded by the National Institutes of Health to perform clinical trials in PAH and studies of physical activity in people with PH.
Outstanding Allied Health Professional Award: Fran Rogers, CRNP
Fran Rogers, CRNP, is nurse practitioner and clinical coordinator at Temple University's Pulmonary Hypertension/CTEPH program. She has been active in PHA and the PH Professional Network (PHPN) since 2007. She has been a speaker and poster presenter at PHPN symposiums and PHA conferences, a support group leader and a PHA fundraiser.
Outstanding Young PH Citizen Award: Jackson Wall
Jackson Wall, 11, was diagnosed with PAH when he was 14 months old. Jackson and his family hold an annual fundraising golf tournament, Driving Fore a Cure for PH, in Clayton, North Carolina, where Jackson speaks about his PH journey. Jackson has always jumped at the opportunity to tell people about PH and his pump.
Outstanding PH Citizen Award: Chloe Temtchine
Chloe Temtchine is an award-winning singer, songwriter and speaker. She is the creator of "Super Brave," an interview series that features kids and adults living with chronic illnesses. She received a lifesaving double-lung transplant in 2020 after living with PH and pulmonary veno-occlusive disease (PVOD) for 12 years.
Outstanding Caregiver Award: Sadie Ruiz
Sadie Ruiz cares for her mother Monica Sanchez, who was diagnosed with PAH in 2004 when Sadie was 6 years old. Sadie cares for her mother by sorting weekly medications; advocating and spreading awareness; helping do her hair and get dressed on days she can't do so independently; draining subcutaneous sites; or making her mom laugh. Sadie and Monica live in Southern California.
Outstanding PHA Support Group Leader: Betsie Miklos
Betsie Miklos is a long-term PH survivor, diagnosed with severe idiopathic PAH in April 2010. She leads PHA's Northern Virginia Support Group. When Betsie learned that PHA wanted to establish a patient registry, she felt her background in technology might be helpful. Since then, she has been involved with PHA-accredited PH Care Centers and is a member of the PHCC board of directors.
About the Pulmonary Hypertension Association
Headquartered in Silver Spring, Maryland, the Pulmonary Hypertension Association (PHA) is the oldest and largest nonprofit patient association dedicated to the pulmonary hypertension (PH) community. Pulmonary hypertension is a rare, chronic and life-threatening disease of the lungs for which no cure currently exists.
PHA's mission is to extend and improve the lives of those affected by PH. To achieve this mission, PHA engages people with PH and their families, caregivers, health care providers, and researchers worldwide who work together to advocate for the PH community, provide support to patients, caregivers and families, offer up- to-date education and information on PH, improve quality patient care, and fund and promote research. For more information, visit PHAssociation.org and connect with PHA on Twitter, Instagram and Facebook.