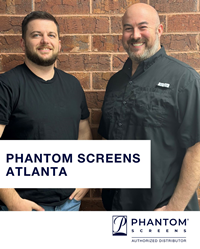 This partnership will undoubtedly bring significant benefits to homeowners across Atlanta.
ABBOTSFORD, British Columbia (PRWEB) February 07, 2023
Phantom Screens, an award-winning manufacturer of high-quality retractable screens, is proud to announce its newest strategic partnership with Atlanta-based Aaron Overhead Doors, a leader in garage door installation, products, and repairs. Doing business under Phantom Screens Atlanta, they have become an authorized distributor for North Georgia. The company is confident that Phantom Screens Atlanta will provide its customers with the same outstanding quality, exceptional customer service, and the best warranties in the industry that they have come to count on from Phantom Screens since 1992.
This new partnership expands Phantom Screens' product offering and ability to service markets across North America. It adds the expertise and best practices from a leading garage door company. It strengthens Phantom Screens' position as a leader in the retractable screens industry and makes a great addition to the over one hundred and thirty partnerships across North America.
Aaron Overhead Doors is the leading turn-key garage door company and the No. 1 choice for the finest quality products and superior service in Georgia. The award-winning, family-owned and operated company specializes in custom residential and commercial garage doors and repair services. Founded in 1968 on the mandate of exceeding customers' expectations every time, Aaron Overhead Doors operates in Buford and Milton, Georgia.
As the founder and CEO of Aaron Overhead Doors and Phantom Screens Atlanta, Ryan Lucia says he is thrilled to partner with Phantom Screens and is excited to welcome clients to its Phantom Screens Atlanta store.
"Phantom Screens' revolutionary products and innovative spirit aligns well with Aaron Overhead Doors' long history of offering customers consistently exceptional quality, innovation, and customer service," says Ryan Lucia. "This partnership will undoubtedly bring significant benefits to homeowners across Atlanta."
About Phantom Screens: In 1992, Dutch immigrant Syb Rypma developed an innovative idea for screens. He soon formed a partnership with Abbotsford's Rooke family, and together they rented space in a garage. Phantom Screens was born. Today, the award-winning company is recognized across North America for making homes better with market-leading retractable screen solutions for doors, windows, multi-panel systems, and outdoor spaces.
For more than 30 years, the company has placed a high value on its employees as part of a long-standing commitment to product excellence and customer satisfaction. For more information, visit http://www.phantomscreens.com.