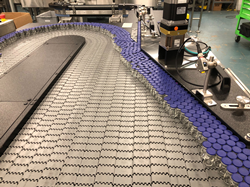 By using our accumulation systems, pharmaceutical manufacturers have been able to double, or, in some cases, triple their current line speeds while reducing product damage and downtime. ~Thomas Garvey, President of Garvey Corporation
BLUE ANCHOR, N.J. (PRWEB) September 22, 2020
Vials are the most common method of packaging many medicines, particularly injectable vaccines. This is because vials are small, easy to sterilize, and easy to transport. However, vials' small size and light weight also make them unstable on a production line -- if collisions happen or turbulence occurs, they can fall over, potentially causing breakage, product loss, and downtime.
In the past, because of the fragile nature of small vials, the line speeds at which many drugmakers could run their lines was limited. Depending on the product and the process, 400-600 vials per minute was about as fast as most lines could run before vial instability became a significant issue.
Now, with Garvey's accumulation systems that incorporate two patented stability-enhancing features -- pressureless loop technology and a slowdown lane -- pharmaceutical manufacturers can achieve industry-leading line speeds of up to 900 vials per minute.
"Any slow down or interruption in the pharmaceutical manufacturing process can result in people not getting the medicines they need," commented Thomas Garvey, the company's president. "As an OEM serving this industry, we have a responsibility to ensure that our equipment enables drugmakers to produce essential products as quickly and efficiently as possible. By using our accumulation systems, pharmaceutical manufacturers have been able to double, or, in some cases, triple their current line speeds while reducing product damage and downtime."
Garvey's patented pressureless loop technology eliminates collisions and damage by eliminating back pressure. The chain never moves under a stationary product and there are no dead plates the products need to slide over to get to the next conveyor. This prevents damage to the vials as they move around the table.
The patented slowdown lane allows for high-speed outfeed. On a typical accumulation table, where all of the lanes run at the same speed, products approach the outfeed in a nested formation. At the pick off point, the products must be denested, which causes turbulence and, as a result, instability. To solve this problem, Garvey's accumulation systems contain a slowdown lane adjacent to the outfeed lane. When products hit the slowdown lane, which runs 10-15% slower than the rest of the belt, they become stacked rather than nested. Stacked vials are easier to separate without turbulence, which is how the slowdown lane solves the stability problem and supports the highest rate for single-filing in the industry.
Visit the Garvey website to learn more about how these two patented technologies help pharmaceutical manufacturers increase their throughput. If you have any questions or would like to discuss a project, contact the Garvey team.
About Garvey
For nearly 100 years, Garvey Corporation has been a leader in producing conveying, accumulating, and automation solutions that can help manufacturers increase throughput by up to 30%. Garvey's line of solutions includes cutting-edge accumulation tables, rotary tables, conveyors, and more essentials to make your production lines more efficient. Visit Garvey online or follow the company on social media: Facebook, Twitter, YouTube, LinkedIn.