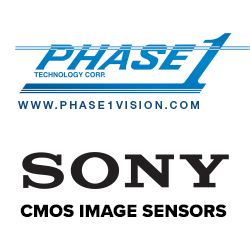 "We're very excited that Sony has chosen us as a distributor for their advanced sensors in the North American market."
DEER PARK, N.Y. (PRWEB) February 26, 2020
Sony Semiconductor Solutions Group announced today that they are growing their current distributor network in North America by signing an agreement with Phase 1 Technology Corp. Phase 1 Technology will now offer Sony's CMOS sensors to its extensive base of industrial market segments.
Sony Semiconductor Solutions, the world leader in advanced CMOS image sensors with high resolution and high performance, is preparing for increased demand for their leading-edge products in new and emerging markets by adding Phase 1 Technology to its network.
Phase 1 Technology will be offering Sony's CMOS image sensors, mainly the Pregius and Starvis family of products.
"We're very excited that Sony has chosen us as a distributor for their advanced sensors in the North American market," said Rusty Ponce de Leon, President of Phase 1 Technology. "These devices will empower our customers to design, develop, and build more powerful and higher performing vision systems for automation, embedded processing, and advanced information applications.
More information about Sony sensor offerings and product specifications can be found at https://www.phase1vision.com/sensors/sony-sensors.
About Sony Semiconductor Solutions Group
Sony Electronics is a subsidiary of Sony Corporation of America and an affiliate of Sony Corporation (Japan), one of the most comprehensive entertainment companies in the world, with a portfolio that encompasses electronics, music, motion pictures, mobile, gaming, robotics, and financial services. Headquartered in San Diego, California, Sony Electronics is a leader in electronics for the consumer and professional markets. Operations include research and development, engineering, sales, marketing, distribution, and customer service. Sony Electronics creates products that innovate and inspire generations, such as the award-winning Alpha Interchangeable Lens Cameras and revolutionary high-resolution audio products. Sony is also a leading manufacturer of end-to-end solutions from 4K professional broadcast and A/V equipment to industry-leading 4K and 8K Ultra HD TVs.
About Phase 1 Technology
Established in 1986, Phase 1 Technology Corp. is one of the premier distributors of industrial vision and automated imaging cameras and components in the United States. A vertically integrated distributor of customer-tailored solutions with an extensive inventory of the industry's premier manufacturers of CCD and CMOS cameras, sensors, cables, image acquisition boards, lenses, lighting and software products, Phase 1 Technology offers all of the vital components used in the design and development of high-performance automation imaging systems. Phase 1 Technology is dedicated to serving a wide range of industrial and commercial applications such as machine vision, microscopy, factory automation, robotics, agriculture, medical, pharmaceutical, UAV/drones, autonomous vehicles, ADAS, intelligent traffic systems, and more.
Visit http://www.phase1vision.com/.