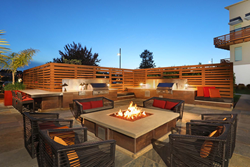 Annadel residents can adjust home color scenes and lighting, set preferences and timers for temperature and window coverings, play their favorite music through in-wall sound, and receive notifications for guest arrivals, package deliveries, and pet-related activity.
SANTA ROSA, Calif. (PRWEB) December 04, 2018
Annadel, an upscale apartment community, announces the opening of its second phase, including brand new one-, two-, and three-bedroom apartments equipped with CASPAR smart home technology. Integrated smart home features include voice- and app-controlled settings for lighting, climate, sound systems, and window shades.
"Sophisticated Sonoma County renters are drawn to interactive home features that deliver convenience and peace of mind, and Annadel is committed to enhancing their lives through technology integrations and thoughtfully crafted amenities," noted Lisa Ellis, division president at Avenue5 Residential, the property's multifamily property management firm. "Annadel is pleased to offer residents a selection of innovations that improve their quality of life and transform the relationship that they have with their homes."
In Annadel's smart apartment homes, residents are able to customize their living spaces by adjusting home color scenes and lighting, setting preferences and timers for their home temperature and window coverings, playing their favorite music in designated rooms through in-wall stereo sound, and receiving intelligent notifications for guest arrivals, package deliveries, and pet-related activity.
Annadel residents are taking note of the many conveniences driven by Caspar's artificial intelligence technology. As one resident stated, "CASPAR has become a natural extension of our day-to-day life, which my wife and I can customize to accommodate our preferences. For example, we love being able to play different genres of music in different rooms."
In addition to their intelligent in-home features, residents at Annadel enjoy spacious storage areas, gourmet kitchens with stainless steel appliances and designer espresso-hued cabinetry, quartz countertops, plank flooring, and full-size, in-unit washers and dryers. Select homes feature private patios and balconies as well as attached garages. The property's pet-friendly apartments range from 683 square feet to 1,191 square feet.
Steps away from their modern, well-appointed residences, Annadel residents have access to some of Sonoma County's most exclusive amenities, including two pools, the newest being a saltwater lap pool with underwater speakers in phase two, and community gardens where residents can grow their own produce in assigned individual plots. The property's 24-hour fitness studio offers Peloton bikes and free monthly Peloton memberships allowing residents to connect to thousands of spin class workouts led by elite instructors. In a nod to the property's proximity to wine country and its partnerships with several area wineries, residents are also able to sip their favorite varietals in an on-site wine bar, featuring individualized wine lockers.
Additional community features include barbecue grills, a coffee and espresso bar, a bocce ball court, and cruiser bike rental. Furthermore, Annadel's ample community gathering spaces, including a plush resident lounge with billiards and large-screen televisions, encourage residents to network and share their personal and professional interests with their neighbors.
Annadel's central location is minutes away from the SMART Santa Rosa North Station, Santa Rosa Park, Santa Rosa Junior College, and downtown Santa Rosa. In addition, the property's proximity to the 101 freeway makes it a perfect home base for exploring craft breweries and wineries in Sonoma and Napa, Point Reyes, and other dynamic destinations in the Bay Area.
"It's important for us to provide residents with amenities that encourage them to stay connected to the people, passions, and places that give their life meaning," stated Matt Perrin, chief investment officer at The Wolff Company, owners of Annadel. "Technology can help strengthen those connections, and we are committed to continuing to find ways to integrate smart features into all aspects of resident life at the property."
For more information on Annadel's technology-enhanced apartment homes, visit http://www.annadelapts.com.
About Avenue5 Residential
Avenue5, a multifamily property management services firm, oversees over 250 properties and 50,000 units in 11 states. The company is headquartered in Seattle, and has offices in Denver, Orange County, Phoenix, Portland, Salt Lake City, San Diego, Spokane, and greater Washington, DC. In addition, Avenue5 retains local experts in major markets including Northern California, Reno, Las Vegas, Albuquerque, Colorado Springs, Austin, San Antonio, Dallas, and Baltimore. The firm employs about 1,400 associates nationwide. http://www.avenue5.com
About The Wolff Company
The Wolff Company is a fully-integrated real estate private equity firm that traces its legacy back to 1949. Since launching its investment management platform, Wolff has raised and managed more than $3.0 billion in discretionary capital.
The Wolff Company employs more than 130 professionals nationwide. The company is headquartered in Scottsdale, Arizona and maintains offices in Washington, Massachusetts and California. http://www.awolff.com