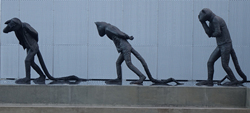 (PRWEB UK) 2 December 2014
The polished concrete plinth built and donated by PHD1 Construction is situated on land adjacent from a shop front units at 46 Jamaica Street. The artwork / sculpture on the plinth is due to change every 6-12months with Baltic Creative working with Castle Fine Arts Foundry to curate the space.
The first artist to exhibit their work is Laura Ford who works closely with Castle Fine Arts Foundry to produce her bronze cast sculptures which have been exhibited all over the world including here in the UK at Tate and the V&A Museum.