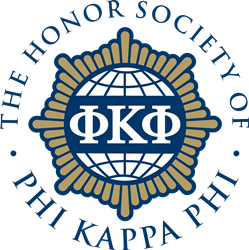 "The book drive competition is a fitting extension of the Phi Kappa Phi mission," said Society Executive Director Dr. Mary Todd. "We are pleased to recognize these chapters whose book drives have enabled access to resources and opportunities that promote lifelong learning."
BATON ROUGE, La. (PRWEB) May 15, 2019
The Honor Society of Phi Kappa Phi—the nation's oldest and most selective all-discipline collegiate honor society—today announced the winners of its annual book drive competition.
The competition, held between February 1 and April 30, saw participation from 18 Phi Kappa Phi chapters across the country with a total of more than 10,000 donated books and $461 in monetary donations. Established in 2014, Phi Kappa Phi created the event as a way to promote literacy in the communities and campuses served by its chapters.
The winning chapters whose drives collected the most donations were:

Western Illinois University
Texas A&M University - Kingsville
"The book drive competition is a fitting extension of the Phi Kappa Phi mission," said Society Executive Director Dr. Mary Todd. "We are pleased to recognize these chapters whose book drives have enabled access to resources and opportunities that promote lifelong learning."
The winning chapters will be eligible to receive either a "Little Free Library" to be placed at a location of their choice or a waived registration fee to attend the upcoming Student Leadership Summit in summer 2019. The Little Free Library is a freestanding box where anyone can donate and borrow books in an effort to promote literacy throughout communities—a prize that fits well with the Society's love of learning and literacy.
Other Phi Kappa Phi chapters that hosted a book drive as part of the competition include Arkansas State University; Bloomsburg University; Caldwell University; California State University, Sacramento; Embry-Riddle Aeronautical University; Florida Institute of Technology; Georgia Southern University; Ithaca College, Louisiana State University; Methodist University; Nicholls State University; Texas A&M University – Commerce; Texas Woman's University; University of North Carolina at Charlotte; University of Maryland University College; and University of South Alabama.
Since its creation, Phi Kappa Phi's annual book drive competition has donated more than 55,000 books to organizations both locally and abroad. Organizations that have received donated books as part of the competition include schools, libraries, hospitals, correctional centers, tutoring and mentoring programs, shelters and more.
To learn more about Phi Kappa Phi, visit http://www.PhiKappaPhi.org.
About Phi Kappa Phi
Founded in 1897, Phi Kappa Phi is the nation's oldest and most selective collegiate honor society for all academic disciplines. Phi Kappa Phi inducts approximately 30,000 students, faculty, professional staff and alumni annually. The Society has chapters on more than 300 select colleges and universities in North America and the Philippines. Membership is by invitation only to the top 10 percent of seniors and graduate students and 7.5 percent of juniors. Faculty, professional staff and alumni who have achieved scholarly distinction also qualify. The Society's mission is "To recognize and promote academic excellence in all fields of higher education and to engage the community of scholars in service to others." For more information, visit http://www.phikappaphi.org.