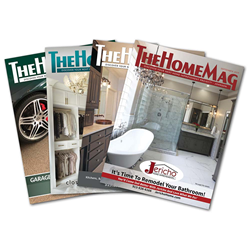 a strategic acquisition...that gives our clients access to 120,000 luxury homes per month, per market
KANSAS CITY, Mo. (PRWEB) February 06, 2020
TheHomeMag is a home improvement magazine franchise operating in over 60 major markets nationwide.
TheHomeMag was founded in 2002 and continues to publish over 100,000 million magazines annually.
At the end of 2019, Phil Singleton & Chris Zinn acquired the franchise rights, team and assets for the Kansas City and St Louis markets.
The magazine has been published in Kansas City since 2007 and in St Louis since 2016. Both markets have loyal, established client bases and seven-digit annual sales.
Singleton says, "I looked at the numbers and was blown away by the volume and quality of leads TheHomeMag can produce for consistent advertisers, especially for companies that already have holistic marketing strategies and clear messaging. The ROI rivals what we do for digital lead generation, including our core expertise in search engine optimization and pay-per-click advertising."
Singleton goes on to say, "This was a strategic acquisition that bolsters our existing local lead generation platforms by giving our clients monthly access to 120,000-plus luxury homes per market."
"Our acquisition of TheHomeMag adds to our growing list of 'unfair advantages.' When combined with our full umbrella of digital services and other exclusive media assets, we feel that we now have a lead generation platform that will substantially outperform the national market lead generation services and home service aggregators in 2020 and beyond."
Chris Zinn added "I've been publishing TheHomeMag since we launched the magazine in both Kansas City and St. Louis and I'm extremely excited to partner with Phil to lead these two magazines as owners."
On Phil's involvement Zinn was quick to point out, "I think it says a lot about TheHomeMag, its clients and their results for a digital marketing expert like Phil to invest in a traditional, direct mail marketing product like TheHomeMag."
TheHomeMag is America's #1 home improvement magazine with the sole purpose of delivering quality leads for home owners across the nation.
About Phil Singleton
Phil Singleton owns & operates Kansas City Web Design & SEO, a web development and digital marketing firm based in Overland Park, KS. Connect with Phil Singleton on LinkedIn.
About Chris Zinn
Chris Zinn has been managing and publishing TheHomeMag since 2007 and franchise owner since 2019. Connect with Chris Zinn on LinkedIn.
About TheHomeMag
TheHomeMag was founded in July 2002 as a single magazine location in southwest Florida with a simple purpose to drive local business to local home improvement businesses through a high-end direct mail magazine. Today, TheHomeMag is a collection of corporately and franchise owned publishers operating in over 60 markets with the same common core purpose: to connect reputable local home improvement companies with the top single-family owner-occupied homes in each market by designing client-specific brand-to-action advertising. Learn more at: TheHomeMag.online