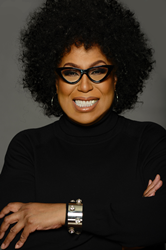 We're mentoring the next generation of female leaders in the U.S.
PHILADELPHIA (PRWEB) October 21, 2020
Every year since 2006, L'Oréal Paris honors extraordinary women around the world who selflessly volunteer their time to serve their communities for their Women of Worth Honoree recognition. The signature philanthropic program embodies L'Oréal Paris' belief that 'every woman is worth it' by elevating women who find beauty in giving back.
This year, Cheryl Ann Wadlington, the Founder and Executive Director of The Evoluer House — an innovative and dynamic nonprofit organization which delivers empowerment programs that help girls of color to envision a future devoid of disadvantages and filled with possibilities — is one of 10 L'Oréal Paris Women of Worth in the U.S. for 2020. The prestigious accolade landed The Evoluer House a $10,000 donation from L'Oréal Paris, and one of the international beauty brand's 10 honorees, chosen by three weeks of online voting, will receive an additional $25,000 towards her cause.
"Being recognized as a L'Oréal Paris Women of Worth is huge, and I am honored that I'm an honoree," said Wadlington. "It elevates the work we do at The Evoluer House and brings significant attention to the needs and life stories of so many girls of color from marginalized communities, amplifying how they too can grow up to not only be healthy, happy and strong, but as powerful leaders of change throughout the world."
As an incorrigible Black girl growing up in Philadelphia, Wadlington was motivated to redirect her life, find her purpose, and never forgot the community that helped her achieve her academic dreams. Drawing inspiration from her own journey, Cheryl founded The Evoluer House to equip them with the essential tools to break cycles of intergenerational poverty. The Evoluer House provides a holistic approach to empowering girls of color to break boundaries, amplify each other's voices and become agents of change.
Since its inception, nearly 2,000 girls have graduated from The Evoluer House's researched based, gender-responsive, culturally-relevant programs, with 100% graduating high school on time and matriculating to college or other post-secondary studies. Many have gone on to earn advanced degrees.
Wadlington, who grew up in West Philadelphia and attended the Fashion Institute of Technology in New York, called her upbringing "incredibly interesting and extraordinarily colorful." She noted that while she found some trouble as a child, she quickly got her act together after her family and community rallied around her. She had role models in her life such as an activist mother, Hazel Wadlington; world-renowned choreographer and founder of Alvin Ailey American Dance Theater, Alvin Ailey; legendary fashion designers Geoffrey Beene and Patrick Kelly; and the late supermodel Naomi Sims.
Wadlington would eventually launch The Evoluer House in the summer of 2004 with 25 girls. Since then, her footprint has grown exponentially, and the non-profit has successfully partnered with Philadelphia and Camden, New Jersey's government agencies to orchestrate programming throughout the region.
Today, The Evoluer House program offerings include Youth Workforce Development, Personal Development Workshop Series, a "Girl Truth: What Lens are you looking through?" podcast, and Evoluer Girl eNews, which serves 5,000 girls of color annually.
"We're mentoring the next generation of female leaders in the U.S.," said Wadlington. One Evoluer program graduate who attended Villanova University and facilitated conversations on campus about what it's like to be a woman student of color at a predominately white institution, was a 2019 Fulbright Scholar.
What girls at The Evoluer House are accomplishing is no small feat, given that the Evoluer House girl is typically one who lives at or below the poverty level, and resides in environments scarred by violence, abuse, addiction, unemployment and illness, and would likely be the first in her family to attend college.
One of Wadlington's most treasured achievements was receiving a resolution from President Barack Obama, who recognized Wadlington for 11 years of service to young urban girls in 2015. Another one of her proudest moments was in 2016 when she learned she was one of 10 women in the nation selected by the White House as a 'Champion of Change' for her leadership and work in extracurricular enrichment for marginalized girls of color.
As of today, the future looks very bright for The Evoluer House. The non-profit received an emergency grant from Grantmakers for Girls of Color during the start of the pandemic, and Wadlington said that if she becomes the L'Oréal Paris Women of Worth National Honoree, she will use the $25,000 to build greater capacity at her non-profit, while expanding programming. "For every girl who enrolls, two more are waiting want to get in," said Wadlington. "These grants help us turn less young women away from the program. And we need every dollar we can get our hands on to evoke the kind of change that will make a difference."
Voting for the L'Oréal Paris Women of Worth begins on October 19th, and goes through November 27th. Learn more, and vote once daily by visiting https://www.lorealparisusa.com/women-of-worth.aspx. Learn more about Cheryl Ann Wadlington and The Evoluer House by visiting http://evoluerhouse.org.
# # #