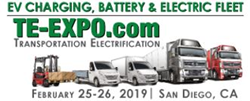 SANTE FE SPRINGS, Calif. (PRWEB) February 18, 2019
Stop by booth #1516 to discover many of Philatron's innovative product lines and learn how Philatron can help with engineering and design solutions. We will be showcasing our electric vehicle cables offering a full line in both straight and coil cables. Our EV cables are UL listed TYPE EVJE and TYPE EVE 600 Volt Power Cable, the application of the EVE power cable is extra heavy duty for both indoor and outdoor use. Our cables feature greater mechanical strength, lighter weight, temperature, abrasion, chemical, flame, water, and ozone resistant. Philatron is committed to providing the highest standards, our EV cables are rated +105°C to -50°C, with Underwriters Laboratories: UL-62, and National Electric Code: Articles 400 & 625 Standard.
Learn more about our commitment to the clean vehicle movement, green technology, and renewable energy industry on hand to answer any questions will be: Tammy Ashton, VP Sales
Philatron is an ISO and TS Certified Quality Manufacturer.
About Philatron Wire and Cable
A leader in technology, creativity and innovation, Philatron Wire and Cable is a major wire and cable provider in the USA, manufacturing a full range of wire and cable products. As an industry leader in manufacturing, design, development, technology, and marketing, with over 40 years of service Philatron values core competencies offering copper drawing, roping, cabling, extrusion, injection molding, coiling and assembly.
MADE IN AMERICA
Visit us at: http://www.philatron.com
For additional information contact:
Tammy Ashton, VP Sales
(800) 421.3547
tashton (at) philatron (dot) com