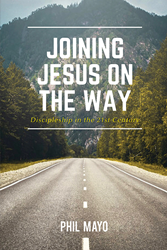 "Discipleship is a persistent walk of endurance…. To take up the cross daily is to devote one's self to God's kingdom purpose with no regard to one's own comfort or worldly existence. To take up our cross daily means a devotion to the will and purpose of God in our lives above all else."
MINNEAPOLIS (PRWEB) November 13, 2019
Joining Jesus on the Way by Philip L. Mayo tells of what life is like for those who choose to follow the Lord. The author cites biblical stories from the Gospel of Luke and credits the evangelist's writing style for bringing a unique perspective into the story of Christ and His disciples. For Jesus's early followers, their discipleship journey began with their one-on-one encounters with the Lord, who urged them to make the difficult decision of repenting, leaving everything behind, and following Him. This initial step divided the people into groups—those who accept the teachings of Christ and those who refuse to listen.
Another prominent message in the author's work is the denial of one's self as part of living a life of discipleship. Ideals of society then and now promote the idea of "just do you," which gets in the way of sacrificing one's relationships and daily luxuries in order to follow Jesus's teachings. This individualist mindset also forgets that God is the ultimate judge of what is right and wrong and that He determines how people should live, which should be in accordance with His will. The author then explains that the journey towards discipleship is a long-term commitment to the values of the Kingdom of God, which can lead to a denial of self—something not everyone is willing to risk.
"Discipleship is a persistent walk of endurance," Philip L. Mayo emphasizes that the first step to following Jesus is one's willingness and strength of heart. It requires commitment, which the author admits he himself is still trying to improve in his daily life. "To take up the cross daily is to devote one's self to God's kingdom purpose with no regard to one's own comfort or worldly existence. To take up our cross daily means a devotion to the will and purpose of God in our lives above all else, because we were made to honor him."
Philip L. Mayo's academic approach to discipleship continues as he mentions key elements that come with living the life of a follower, examples of which are detachment from material possessions, prayer, faith, and forgiveness. After teaching them all He could during His ministry, Jesus entrusted the apostles with continuing their journey after His death on the cross and urged them to find more followers while spreading the Good News. Growing as a disciple, the author tells readers, is a never-ending process, something the twelve apostles struggled with up to their reception of the Holy Spirit during Pentecost.
"Surrendering ourselves to God is the essence of discipleship. Once we have done this, then our obedience, our possessions, our family responsibilities, and all our worldly obligations fall into line," the author circles back to the early stages of being Christ's follower—total surrender of one's life to God's will. However, he reassures that the grueling pain of death merely signals the start of one's journey, because those who willingly give up all they are will be rewarded with new life. "Jesus's invitation to all who follow him is to join him on the way to the cross, but the journey doesn't end there. The journey continues through resurrection to new life in him."