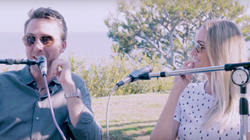 We've gone to places that man has never laid eyes on and plastic trash was already there.
LOS ANGELES (PRWEB) July 11, 2019
To mark the 75th anniversary of the invention of modern scuba diving equipment, environmentalist and journalist Philippe Cousteau recently appeared on Season 1, Episode 7 of "The Sea Has Many Voices" podcast with globally recognized oceanographer Dr. Greg Stone. In this episode, Philippe and his wife, fellow journalist/environmentalist Ashlan Cousteau, talk about the invention of the aqualung in 1944 by his grandfather Jacques Cousteau and Emile Gagnan. He also shares his most important cause: Ocean Plastic Pollution.
As Phillippe explains, scuba gear, which lets people move freely underwater for long periods, truly allowed for ocean exploration. "What made my grandfather's vision really different was that ability to swim freely like a fish," Philippe tells Dr. Stone. "We grew up with images like Nemo and Shamu and take those images for granted when just a lifetime ago no one knew what that was." As with everything they do, Philippe and Ashlan's goal is to call attention to the plastic pollution that is choking the world's oceans. People dump 18 billion pounds of plastic into the world's oceans every year. "We've gone to places that man has never laid eyes on and plastic trash was already there," Cousteau says. "Dead whales are considered environmental hazards because they have so much plastic in them."
Besides discussing the problem of plastic ocean pollution and environmental sustainability, Philippe Cousteau, Jr. and Ashlan Cousteau talk about their other projects. Some of these projects include helping children protect the environment through their Earth Echo foundation. The Cousteaus also educate viewers with their television show "Caribbean Pirate Treasure" on The Travel Channel. What's more, Philippe educates young people through children's books like "Going Blue" and "Follow The Moon Home," which he co-wrote.
The full audio and video of Greg Stone's interview with Philippe and Ashlan Cousteau are available at "The Sea Has Many Voices" website and Youtube. Audio versions are available on Soundcloud, Spotify, Google Play and Apple Podcast
"The Sea Has Many Voices" is a podcast series highlighting diverse voices from the worlds of science, activism, art, and politics together. Dr. Stone brings these voices together on "a journey of understanding and hope through our oceans."
###
If you would like to learn more about "The Sea Has Many Voices" podcast or Dr. Greg Stone, send your questions to info(at)theseahasmanyvoices.com.
Follow Greg Stone!
Facebook: https://www.facebook.com/TheSeaHasManyVoices/
Twitter: https://twitter.com/GregStoneOcean
https://www.instagram.com/gregstoneocean/
LinkedIn: https://www.linkedin.com/in/gregstoneocean/