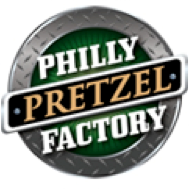 Philadelphia (PRWEB) May 15, 2015
The nation's leading Philly-style soft pretzel chain, Philly Pretzel Factory, recently released a special Tim Tebow-inspired pretzel welcoming him to the Eagles. Now, the booming franchise is doubling down on Tebow mania by donating all of the sales from the Tebow inspired pretzel at its flagship Mayfair location to the Tim Tebow Foundation.
"No one at Philly Pretzel Factory expected our pretzels honoring Tim Tebow to explode in pop culture the way it did," said Dan DiZio, CEO and co-founder of the company.
The brand decided to follow Tebow's example and give back by donating all sales of the $1 customized pretzels at its Mayfair, Philadelphia location to a good cause.
"The public's fascination with Tim Tebow as a pro football player and celebrity helped spread news of our specialty pretzel like wildfire, so it only seemed right to donate proceeds to a cause close to his heart," said Philly Pretzel Factory President Marty Ferrill.
The Mayfair location sold 1,113 Tebow pretzels, which comes out to well over one thousand dollars for various charitable programs. The Tim Tebow Foundation covers a number of outreach initiatives, including the W15H program, which fulfills the dreams of children with life-threatening illnesses; Timmy's Playrooms, which builds playrooms in children's hospitals around the world and Orphan Care, which serves children who have been left homeless or abandoned across the globe.
"Philly Pretzel Factory is proud to welcome Tim Tebow to our hometown team, but we're even more thrilled to give back to those in need," DiZio said. "We're going to spread the love our fans have shown us across Philadelphia by giving back to The Tim Tebow Foundation, a great cause that aligns with our Philly Pretzel Factory values, as well."
As the world's largest Philly-style bakery, Philly Pretzel Factory bakes fresh, delicious soft pretzels delivered to customers "served hot outta the oven." Each pretzel, made from a mix of only the finest and freshest ingredients, is hand twisted daily to ensure quality and authenticity.
ABOUT PHILLY PRETZEL FACTORY:
Philly Pretzel Factory offers consumers a fresh, healthier choice of a satisfying snack with their fresh-baked pretzels that are "served hot outta the oven." Philly Pretzel Factory was founded in 1998 by college buddies Dan DiZio and Len Lehman and has grown into the largest Philly style pretzel bakery in the world, feeding customers at 148 franchised locations primarily in the Northeast and Mid-Atlantic, expanding from New York to Florida. Philly Pretzel Factory's menu offers the traditional Philly style pretzel and also includes pretzel twists, mini pretzels, rivets, pretzel dogs, cheesesteak pretzels and a variety of mustards. These products can be found in a stand-alone bakery, transportation and entertainment venues, and in the nation's largest retailer, Walmart. For more information on Philly Pretzel Factory, visit http://www.phillypretzelfactory.com. To inquire about franchise opportunities, visit http://www.ownappf.com.