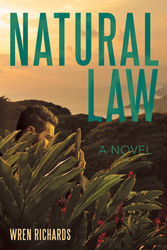 GALVESTON, Texas (PRWEB) August 27, 2018
"Natural Law" is a fictional thriller based on the true events of an independent American woman facing crime and corruption while living in Costa Rica for five years.
Author Wren Richards wrote this novel to tell the story of how a strong, middle-aged American woman finds herself entangled in corruption while living abroad. After purchasing property, protagonist Sun Wren Richards soon realizes she is the victim of crime and property scam. Her fight to find answers leads her on a dangerous journey across border lines and back to the United States where she hopes the truth awaits.
"Natural Law" is suspense-filled, adventurous, and shines a light on the true value of privacy and civil liberty.
"Natural Law"
By Wren Richards
ISBN: 9781480860865 (softcover); 9781480860841 (hardcover); 9781480860858 (electronic)
Available at the Archway Publishing Online Bookstore, Amazon, Barnes & Noble, and the Galveston Bookstore.
About the author
The author wrote "Natural Law" under a pen name for her protection. She is a political activist who ran for the Texas senate, served as a Democratic delegate for Wyoming, and ran political campaigns for a Wyoming representative, senator, and governor. In addition to her public service, Richards served as director of a community theatre in Wyoming and director of a performing arts school in Texas. She currently resides in Galveston, Texas. The author was the State of Texas Chair for the NATURAL LAW party and ran for the Senate.