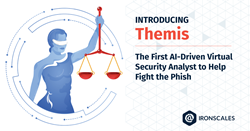 Tel Aviv (PRWEB) August 01, 2018
IRONSCALES, the world's first automated phishing prevention, detection and response platform, today announced the availability of Themis, an AI-assisted virtual security analyst built to automatically determine a verdict on suspicious email incidents in real-time. By mimicking security analyst's decision-making criteria, Themis can predict with high-confidence the legitimacy of any suspicious email, improving the efficiency of email phishing classification and expediting the resolution of confirmed phishing threats.
After years of studying security expert's decision-making processes with Federation, IRONSCALES' peer to peer phishing intelligence sharing module, Themis will capitalize on that knowledge to exponentially speed up and automate security teams' response times and efficiency. For the majority of overburdened and understaffed SOC and security teams, Themis will provide much needed relief by rapidly accelerating decision-making processes and automatically implementing decisions whenever a pre-determined level of confidence-level is exceeded.
"Themis builds on our unprecedented phishing intelligence sharing capabilities by introducing a new level of security to our phishing protection platform, using AI to help assess and syndicate threats while empowering organizations to respond to attacks with little to no involvement from security teams," said Eyal Benishti, IRONSCALES founder and CEO. "Since time is of the essence with phishing mitigation, Themis' ability to autonomously and automatically make decisions with a high-confidence level can do more to reduce the risk of email phishing than any other security tool on the market."
How Themis Works
When a new incident is not automatically resolved by IronTraps, our automated forensics and incident response module, Themis immediately logs the attack details and checks it against all of Federations' previous verdicts - taking dozens of different phishing protection decisions and criteria into account as well as other intelligence sources from within the IRONSCALES platform. Based on the vast amount of data captured over the years from email phishing attacks, spam and false positives, Themis then provides with high confidence its own verdict to analysts, offering what it believes other human analysts would do with such an incident.
Themis also provides security teams with a confidence level for every phishing incident and can be operated in both suggestive and responsive modes based on her built-in confidence levels and company policy. If the confidence level is high enough, Themis can automatically make and implement its decisions without human intervention.
Powered by machine learning algorithms, Themis continuously learns from the tens of millions of emails that it is exposed to on a weekly basis. It is available for Exchange/O365 and G Suite users as a one-click add-on via the IRONSCALES dashboard.
For more information on IRONSCALES, visit http://www.ironscales.com and follow @ironscales. To demo Themis and the entire IRONSCALES platform at Black Hat, visit Booth 559 – Shoreline at Mandalay Bay. To learn why industry analyst Ovum calls the IRONSCALES' phishing prevention, detection and response platform one to watch visit https://ironscales.com/ovum_landing/.
About IRONSCALES
IRONSCALES is the leader in advanced phishing threat protection, combining human intelligence with machine learning to automatically prevent, detect and respond to advanced email phishing threats. By combining technical and end-user controls into one integrated, automated & multi-layered platform, IRONSCALES drastically reduces the workload burden of SOC and security teams while expediting the time from phishing attack discovery to enterprise-wide remediation from hours, weeks or months to just seconds. Headquartered in Tel Aviv, IRONSCALES was incubated at the 8200 EISP, the top program for cybersecurity ventures, founded by alumni of the Israel Defense Forces' elite Intelligence Technology unit.