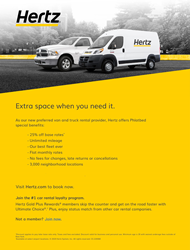 NORWALK, Conn. (PRWEB) February 26, 2020
Phlatbed, the OnDemand delivery platform for nearly anything, today announced a partnership with Hertz that will give thousands of drivers across the United States access to Hertz Fleet.
The deal will allow drivers who don't have commercial vehicles — or have vehicles that may not meet Phlatbed's requirements — to rent a Hertz Fleet vehicle for Phlatbed deliveries while enjoying significant discounts and additional incentives.
"Our unique position in the two-sided, gig economy marketplace requires that our drivers have access to a reliable and available fleet at any given time so that no customer order should go unfulfilled," said Alani Kuye, CEO of Phlatbed. "This has been a challenge, and Hertz came in at the right time. Some drivers reached out to us about wanting to help fulfil many customer orders, but they did not have the commercial vehicle required to fill those needs. This meant money was being left on the table. As a gig economy company, we are on a mission to improve experiences while putting money in people's pockets. Hertz has deep experience in the space, and this aligns with our scaling out effort."
The program is being rolled out in every major city and Hertz location across the United States in early 2020. To partake in the program, drivers have to quality as Tier – 2 Drivers in order to access Hertz nationwide fleet. The program is also being rolled out across other Phlatbed partners and being integrated within the Phlatbed mobile application.
"We took a driver-first approach with simplicity and familiarity in mind. Everybody knows Hertz. This fits well into our user profile for both gig workers and gig economy service requesters," Kuye continued. "With over 30,000 active drivers and thousands more joining by year's end, we needed a forward-thinking partner that fits into our near-term or long-term plans structurally and operationally."
About Phlatbed:
Phlatbed is an OnDemand technology company that connects people to local pre-screened drivers and moving companies who can help with quick pick-up and delivery of items, including junk removal and general labor services. The company now operates in over 300 U.S. cities, with thousands of independent drivers ready to pick-up and deliver items on-demand. Investors include Connecticut Innovations, Oni Chukwu and Frontiers Acquisitions. Phlatbed is not a Carrier or Broker.
For more information about Phlatbed, visit http://www.phlatbed.com
About Hertz:
The Hertz Corporation, a subsidiary of Hertz Global Holdings, Inc., operates the Hertz, Dollar and Thrifty vehicle rental brands in approximately 10,200 company-owned, licensee and franchisee locations throughout North America, Europe, the Caribbean, Latin America, Africa, the Middle East, Asia, Australia and New Zealand. The Hertz Corporation is one of the largest worldwide vehicle rental companies. Product and service initiatives such as Hertz Gold Plus Rewards, Ultimate Choice, Carfirmations, Mobile Wi-Fi and unique vehicles offered through its specialty collections set Hertz apart from the competition. Additionally, The Hertz Corporation owns the vehicle leasing and fleet management leader Donlen Corporation, operates the Firefly vehicle rental brand and Hertz 24/7 car sharing business in international markets and sells vehicles through Hertz Car Sales.
For more information about how Stripe is expanding commerce on the Internet, visit http://www.hertz.com