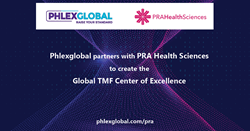 PhlexGlobal's TMF system is a market-leading technology that sets the standard for inspection readiness. Barb Hoff Vice President PRA Health Sciences
AMERSHAM, England and MALVERN, Pa. (PRWEB) September 23, 2020
Phlexglobal announced today the successful creation and implementation of the Global TMF Center of Excellence with partner PRA Health Sciences (NASDAQ: PRAH), one of the world's leading global contract research organizations. By leveraging Phlexglobal's industry leadership in eTMF technology innovation and authoritative expertise in Trial Master File best practices, PRA continues to ensure that its customers achieve and maintain lasting TMF compliance – in accordance with rapidly evolving regulatory mandates.
Given the increasingly critical role played by the Trial Master File for supporting Good Clinical Practice (GCP), audit and inspection preparedness, and streamlined submissions, PRA conducted a comprehensive, multi-round review of leading TMF providers and chose Phlexglobal after a competitive bidding process. Building and implementation of PRA's fit-for-purpose TMF Center of Excellence solution commenced shortly after the project award was given in early 2019.
"Setting the standard for industry best practices, PhlexGlobal's eTMF solution is designed for CRO and sponsor collaboration, which provides our customers with TMF visibility throughout the life of a project," said Barb Hoff, Vice President at PRA Health Sciences. "PhlexGlobal's TMF system is a market-leading technology that sets the standard for inspection readiness. The partnership with PhlexGlobal has provided PRA with valuable counsel and insights so that we are able to achieve the right alignment of people, process and technology to efficiently manage TMF health and enhance our business offerings."
With insights from the Global TMF Center of Excellence, PRA assists top pharmaceutical and biotech sponsors in compliance and reducing risk by ensuring ongoing inspection-readiness with expert management of the quality, completeness, and timeliness of the Trial Master File. PhlexTMF technology supports this by providing effective sponsor oversight, streamlining collaboration and communication, and easily managing millions of documents across hundreds of studies.
"We are honored to work with PRA to provide high-quality TMF compliance to their customers," said John McNeill, CEO of Phlexglobal. "As an industry leader consistently ranked among the top CROs and best employers worldwide, PRA recognized the critical importance of a high-quality Trial Master File for effective clinical development following GCP as well as successful submissions."
PhlexTMF is the industry's only eTMF solution that seamlessly incorporates both sponsor TMF requirements and the business practices of Contract Research Organizations (CROs) and Academic Research Organizations (AROs) to support their customers. With capabilities including the industry's first AI-assisted indexing, embedded TMF Quality review, mobile scanning and classification, and the ability to easily manage multiple TMF structures, PhlexTMF helps organizations maximize their Trial Master File compliance and inspection-readiness.
About Phlexglobal
Phlexglobal is the leading technology and services organization for clinical and regulatory matters with a focus on helping clients to master their digital agenda via proven AI solutions. Phlexglobal combines software and leading expert services to offer a unique solutions portfolio with easy to achieve automation via data generation that lifts organizations to a new level of effectiveness.
PhlexTMF is the company's Trial Master File software. Regulatory solutions including PhlexSubmission for eCTD and CTD, PhlexIDMP, PhlexEVMPD, and PhlexRIM are considered highly innovative in the industry for out-of-the-box best practices capabilities, automation technology, and user-focused design. PhlexDistiller, a machine learning platform that reads documents and converts unstructured content into structured data, achieves automation of regulatory and clinical processes and completes the end-to-end solutions offering from Phlexglobal. To learn more about Phlexglobal, please visit http://www.phlexglobal.com.
Media Inquiries: Chris Englerth, Head of Global Marketing
cenglerth@phlexglobal.com | +1 215-622-8798
About PRA Health Sciences
PRA Health Sciences is a full-service global contract research organization, providing a broad range of product development and data solution services to pharmaceutical and biotechnology companies around the world. PRA's integrated services include data management, statistical analysis, clinical trial management, and regulatory and drug development consulting. PRA's global operations span more than 90 countries across North America, Europe, Asia, Latin America, South Africa, Australia and the Middle East, and more than 17,500 employees. Since 2000, PRA has participated in more than 4,000 clinical trials. In addition, PRA has participated in the pivotal or supportive trials that led to U.S. Food and Drug Administration or international regulatory approval of more than 95 products. To learn more about PRA, please visit http://www.prahs.com.
MEDIA INQUIRIES: Laurie Hurst, Sr. Director, Communications and Public Relations
hurstlaurie@prahs.com | +1-919-786-8435