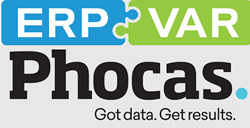 We are thrilled to offer Phocas data analytics software on ERPVAR's Acumatica add-on directory. Their product is highly respected in the industry across many ERPs. We look forward to helping them grow their Acumatica practice!" - Adrian Montgomery Partner at ERPVAR
DANA POINT, Calif. (PRWEB) March 24, 2020
Phocas Software joins ERPVAR's exclusive network of Acumatica ISVs and Acumatica consultants. The ERPVAR directory for Acumatica ISVs highlights Phocas Software's offerings. Thousands of ERPVAR blog subscribers will benefit from Phocas Software's insight and expertise via ERPVAR's Acumatica expert blog contribution.
Phocas Software is an Acumatica certified partner offering powerful data analytics that connect seamlessly with all Acumatica Cloud ERP editions. Specializing in data analytics for manufacturing, distribution, retail and construction, Phocas extends the functionality of Acumatica reporting to empower users to make better decisions for their business. The best-in-class business intelligence solution helps users drill into key information and follow their train of thought to gain insights fast in an easy-to-use, simple and effective tool. The tool ingrates with Acumatica, as well as other ERP solutions such as SAP Business One, Sage, NetSuite and Microsoft Dynamics.
About ERP VAR
Established in 2012 and headquartered in Orange County, CA, ERPVAR represents the collective expertise of Sage 100cloud, Sage 300cloud, Sage Intacct, Microsoft Dynamics, Acumatica, and QuickBooks Enterprise integrated software vendors (ISVs) combined with the expertise of local implementation ERP consultants. These local ERP consultants provide end-users with a thorough needs analysis to determine which ERP software functionality is required to address their unique needs.
About Phocas Software
Phocas Software (http://www.phocassoftware.com) provides a company-wide and industry-matched SaaS data analytics solution. Phocas makes it easy to drill down from high-level visual summaries into the underlying data and arrive at insights to make better decisions in manufacturing, distribution and retail businesses.
Phocas provides a consistent user experience centered around simplicity, usability and performance. From day one with Phocas, users get tracking and reporting on essential KPIs and metrics that are specific to role and industry. But users can also add custom measures, dimensions, dashboards and scorecards to meet the unique reporting needs of their business.