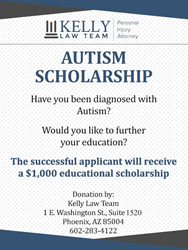 PHOENIX (PRWEB) December 01, 2020
The Kelly Law Team (KLT), a personal injury law firm in Phoenix, Arizona founded by attorney John Kelly has announced that the firm will award an educational scholarship as part of its scholarship program. The KLT scholarship program has awarded multiple scholarships over the years, and for the fourth time since 2015, the scholarship will be open to individuals with ASD (Autism Spectrum Disorder or autism). The scholarship will be applied to offset a portion of the tuition at an institution of higher learning or continuing education chosen by the successful applicant. That could be a college, junior college, vocational school, or a trade school.
ASD is condition that presents many challenges. While those challenges are varied, they can affect a person's desire to pursue his or her education. This scholarship is intended by Mr. Kelly and his firm to provide impetus for those with autism to continue with their education and as an incentive to strive to achieve their educational goals.
U.S. citizens who have been diagnosed with autism/ASD are encouraged to apply. It is not required than an applicant be enrolled or attending classes at the time the application is submitted. The successful applicant must, however, use the tuition reimbursement scholarship funds within a year after the announcement of the award.
Anyone who is interested in learning more about the scholarship, eligibility, the application process or the KLT scholarship program will find additional information on the firm's website. The website contains the complete application form and all requirements, as well as the firm's privacy policy. To be considered for the current scholarship, applications must be submitted to us on or before December 10, 2021.
Those with questions about the scholarship application, the application process, or the scholarship program should contact the firm, preferably via email. The contact information is as follows:
Kelly Law Team
1 E. Washington St., Suite 1520
Phoenix, AZ 85004
602-283-4122
email: mike@jkphoenixpersonalinjuryattorney.com