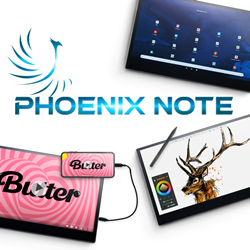 "We're beyond grateful that the Indiegogo community believes in our vision to break the mold of our existing tech," says HDTELECOM's CEO Heedae Lee. "We're open to gathering feedback in real time to learn how to better our product to satisfy the needs of our backers."
TORRANCE, Calif. (PRWEB) November 15, 2021
Many external monitors exist that are portable and lightweight. When unplugged from a media source, however, they're ultimately powerless. Enter Phoenix Note, a 3-in-1 tablet that works as a 15.6" Full-HD Android 11 OS tablet when alone but also a portable monitor when needed. And the switch from one mode to another is as easy as a click of a button.
On November 9, 2021, the Korean ICT start-up HDTELECOM launched Phoenix Note on Indiegogo, a renowned crowdfunding platform. This allows global early adopters to pre-order at the best limited deals and get their hands on the product before anyone else. In just 4 hours of going live, Phoenix Note hit its funding goal.
With the provided stylus, creatives have all the necessary tools to turn any space into a productive workstation. Work efficiency is known to increase 42% when using multiple monitors. Add the fact that Phoenix Note's screen provides 10-point multi-touch to make it easy to multitask and you reach maximum productivity beyond the standard external monitor.
"We're beyond grateful that the Indiegogo community believes in our vision to break the mold of our existing tech," says HDTELECOM's CEO Heedae Lee. "We're open to gathering feedback in real time to learn how to better our product to satisfy the needs of our backers."
For a limited 30-days, Phoenix Note is available at $519, a 35% discount of retail price. In order to learn more about Phoenix Note and its ongoing Indiegogo campaign, please visit here.
About HDTELECOM
HDTELECOM is an ICT start-up specializing in IoT, media, security, and AI. It brings together the brightest minds of engineering and product design to produce innovative contributions in education, robotics, service platforms, and content creation. In order to learn more about the team, visit http://hdtel.biz/.