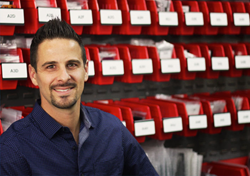 The first 10 years refined us, the next 10 will define us.
Tulsa, OK (PRWEB) March 17, 2014
The 10 year anniversary of Phone Doctors is a huge milestone for a company that began with humble beginnings.
"Phone Doctors was founded on the phrase; focus on the customer, and not the dollar. The vision was to love our customers and be purposeful with training our staff to replicate and embrace the same motive. Looking back, I had told trusted management for years not to look at financial totals because I wanted the focus on exceptional services to our customers," said Alex Iser, CEO of Phone Doctors.
To celebrate the 10-year anniversary, Phone Doctors is gathering the entire company staff in a 2 state area along with special guests at their new corporate headquarters in downtown Tulsa, OK. The night will consist of socializing, formal dinner, teaching, and story telling from influential members of the company that lead up to the CEO re-casting the vision that started the the company 10 years ago.
"It's gonna be an exceptional evening as we connect with each other and to the heart of the company's vision. The first 10 years refined us, the next 10 will define us," said Tony Baker, Strategic Marketing Consultant, Phone Doctors.
Phone Doctors has an arsenal of telecommunication based services and products and will begin franchising in the 3rd quarter of this year.
Customers are encouraged to stop by a Phone Doctors location on Monday, March 17th, 2014 to high five a Phone Doctors staff member as they prepare to celebrate their 10th year of business. For locations, visit: http://PhoneDoctors.com/locations.
ABOUT PHONE DOCTORS
Phone Doctors is a mobile device repair business with 6 retail locations throughout Northeastern Oklahoma and Northwest Arkansas. Phone Doctors offers a variety of products and services, including handsets, cell phone and tablet repair, cases and other cell phone accessories. Phone Doctors also offers a mail-in repair option for consumers who are not in the Oklahoma area. For more information on how Phone Doctors can serve you, please visit http://phonedoctors.com.