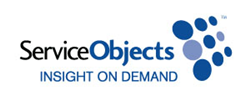 "Phone intelligence keeps businesses connected, particularly in a world where e-commerce increasingly involves mobile devices, and compliance issue face every business that markets by phone."– Geoff Grow, Founder and CEO, Service Objects
SANTA BARBARA, Calif. (PRWEB) November 09, 2022
Service Objects, the leading provider of real-time contact data validation solutions, reminds customers of the importance of phone intelligence as the holiday shopping season approaches for retailers. Its GeoPhone Plus service provides critical reverse phone lookup services needed for regulatory compliance and marketing support during this peak selling period.
Statistics show that phone information is often the weak link in business contact data, with over half of numbers captured on web forms being bogus or non-operational, 25% of numbers changing annually, and 2.8 million consumers switching phone providers each year. More importantly, violations of regulations such as the US Telephone Consumer Protection Act (TCPA) carry steep fines of up to $1500 per call or text for unsolicited telephone marketing, particularly wireless users, requiring an automated process for detecting when numbers change.
Reverse phone services return contact details, carrier, and other essential phone data for numbers in the US, Puerto Rico, and Canada, with GeoPhone Plus providing this important data for nearly a quarter of a billion wireless numbers as well. They cross-reference US and Canadian name and addresses to append business and consumer phone numbers and provide advanced phone intelligence including carrier, line type, country, and location information.
In addition to providing accurate phone numbers that are vital to connecting with customers and prospects, these products provide key data about them, including appending current phone numbers to existing contacts, backfilling contact records with names and addresses, determining if a phone number can receive an SMS message, and confirming porting dates to avoid privacy and compliance issues.
According to Geoff Grow, Founder and CEO of Service Objects, "Phone intelligence keeps businesses connected, particularly in a world where e-commerce increasingly involves mobile devices, and compliance issues face every business that markets by phone. Our Phone intelligence suite of services offers business-grade solutions that provide industry-leading capabilities in this critical area."
These services support major marketing automation and CRM platforms using convenient API interfaces, and all Service Objects products feature expert installation assistance, available 24/7/365 technical support, and the industry's only financially guaranteed 99.999% uptime. To learn more about Phone Intelligence products or any of Service Objects' contact data quality solutions, or to request a free live demo, please visit our website.
Founded in 2001, Service Objects is the leading provider of contact validation solutions, validating online transactions in real-time, including contact name, address, phone, email, and device. Using Service Objects' global validation and location web services, businesses can identify potentially fraudulent contact records, append additional contact information, and process transactions in a more efficient manner. Service Objects has validated over 5 billion contacts, and major brands such as American Express, Microsoft, and Amazon rely on Service Objects for their data validation needs. For more information about Service Objects' real-time web services, contact sales@serviceobjects.com.