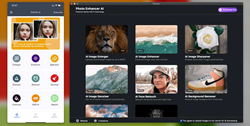 This app is really very helpful when it comes to brightening up and enlarging old pictures using AI. I've been a long-time user of the web app and am even more pleased that this functionality has made the jump to the App Store.
HONG KONG (PRWEB) November 06, 2021
Though plenty of tools focusing on image editing and optimization, few of them are available for one-stop processing. Users usually have to waste much time and energy to apply different implements to get the resulted image. Committed to solving this pain point, ImgLarger has unveiled such an AI toolkit and let AI to help you.
"Most of our competitors claim their programs capable of leveling up photograph quality in simple ways. We have tested 80% of the majority and found that they seldom deliver on their promises. How to use one application to meet all needs when you edit a photo? That's what we concern and what we show you in PhotoAI. You can easily resize small picture without losing quality or restore old photos with a new look in a single app. Wouldn't that be a cool thing to do?" Said Shane Steven, the CEO of ImgLarger.
The new PhotoAI combines the most popular AI functions from ImgLarger, ImgUpscaler, ImageColorizer and BgEraser, with unlimited access. No accounts and credits required. You can use PhotoAI on iOS/Android/MacOS. Take a quick look at the notable features of this all-in-one AI toolkit as follow:
AI Image Enlarger: upscale images by 200%, 400%, 800% without losing quality.
AI Image Enhancer: enhance image quality, color, and contrast in just one click.
AI Image Denoiser: Denoise the image and get rid of noises.
AI Image Sharpener: Sharpen and deblur image caused by High ISO camera.
AI Face Retouch: Retouch your face and fix the blurry portrait pictures.
AI Background Eraser: Erase and remove the background from the image automatically.
AI Picture Colorizer: Colorize and refurbish the old photo, repair and upgrade blurry image.
AI HDR Maker: Create a dramatic and stunning HDR photo from one single picture.
AI Sketch Maker: Convert the images and face into pencil sketch drawings.
Two plans have been introduced for subscribers to access to the ultimate all-in-one photo processing service. Users can choose Monthly Plan charging $9.99 or Yearly Plan charging $49.99 for each year. Both monthly and yearly plan allows users to experience all functions with no limitations.
PhotoAI for Mac: https://apps.apple.com/us/app/photo-ai-all-ai-toolkit/id1585595160
PhotoAI for iOS: https://apps.apple.com/us/app/photoai-ai-photo-toolkit/id1590124720
PhotoAI for GooglePlay: https://play.google.com/store/apps/details?id=com.app.phoAI