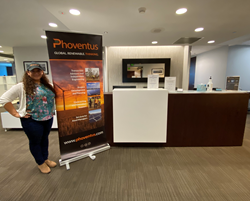 We are excited to open our newest office in Redwood California.
REDWOOD, Calif. (PRWEB) July 15, 2020
Phoventus is an engineering and consulting firm specializing in solar, wind energy, and energy storage. Our team is now backed up by solid local experience in California.
We continue to experience significant interest from clients for feasibility engineering technical and advisory services in support of the Energy Storage market and ongoing Solar Re-powering. It is clear to Phoventus the California market is a durable , long-term market for these projects and our services.
The fact remains that clients need to see local support for their projects even in this time of social distance and reduced mobility. Our team is confident our new location in the Bay area helps advance these client interests while maintaining the quality of service they have come to expect.
About Phoventus (http://www.phoventus.com)
With offices in Toronto and California, Phoventus is an engineering and advisory consultant to the distributed energy market, offering value-added services to renewable power and energy storage developers and end-users. The firm provides services through all stages of a project's life-cycle, starting with early stage environmental, technical and financial feasibility assessments through to developer risk management and safeguarding the interests of power producers/operators and long-term ownership stakeholders.
The Phoventus management team has advised on more than 500 renewable energy projects globally.