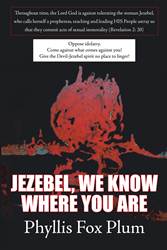 MEADVILLE, Pa. (PRWEB) December 15, 2020
"Jezebel, We Know Where You Are": an illuminating discussion that brings the knowledge one needs in understanding the works of Jezebel and the threats she brings to one's faith and being. "Jezebel, We Know Where You Are" is the creation of published author Phyllis Fox Plum, wide, mother/grandmother, a screenplay writer, a published poet, active in the faithful Catholic Church, and an advocate for the dignity of life for the elderly, children and the unborn. Her hobbies include oil painting, gardening, and sewing.
Plum shares, "Where is peace and joy in this hour in time? What is safe to seek and find? Why is every worthy thought, word, and deed so difficult to sustain? What is absolute? Why is the media, the Church, the arts and entertainment, business, religions, the family, education, and the government so chaotic? Who is in charge? Jezebel is. Why? Because God's people are silent.
"The original Jezebel lived in the ninth century B.C. as queen and wife of the dissenting King Ahab. Her pagan ways linger into every generation, hovering over everything father and mother, pastor, educator, and government. Few are spared her intrusions, especially the highly educated who lean on their own knowledge, those in positions of authority and power, and those practicing spiritism.
"Jezebel threatens every body, mind, and spirit, even the best of Christians, placing residency in Heaven at stake. It is time to come against what comes against God's very good people. She intimidates in order to manipulate, in order to dominate. Identify her powers and principalities, her philosophies and practices within secular humanism, Eastern mysticism, and the occult.
"Warriors against Jezebel are taught, led, comforted, guided, and protected by the Holy Spirit of God, who provides the strategies and powerful weapons to use in this spiritual battle. Be assured, those aware of the differences between Jezebel's ways and God's order win the war.
"The Satan-Jezebel-spirit uses terrorism to cause fear and submission. It is Satan at work with his original intent to be like God—in charge. Fight! Stop this evil! Where to start? Start with the heart, where God's Truth is written. The joy of the Lord is your strength. The war is worthy. In faith, hope and love, proceed to the frontlines to fight for and uphold the Absolute Truth. 'Jezebel, we know where you are.'
"Learn what pleases the Lord. Have nothing to do with the worthless ways of dissenters. 'See to it that no one takes you captive through philosophy and empty deception, according to the tradition of men, according to the elementary principles of the world, rather than according to Christ' (Colossians 2:8)"
Published by Christian Faith Publishing, Phyllis Fox Plum's new book is a brilliant tool in understanding the significant battle between illusions or looming temptations and the Absolute truth. This book guides the reader along a path of wisdom, knowledge and discernment. Find examples of Jezebel's infiltration, and a list of tools for courageous confrontations.
View a synopsis of "Jezebel, We Know Where You Are" on YouTube.
Consumers can purchase "Jezebel, We Know Where You Are" at traditional brick & mortar bookstores, or online at Amazon.com, Apple iTunes store, or Barnes and Noble.
For additional information or inquiries about "Jezebel, We Know Where You Are," contact the Christian Faith Publishing media department at 866-554-0919.