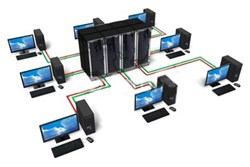 Currently, client record sharing is a hodge-podge of access ranging from regional to statewide, depending on the provider and the EMR system in place.
Denville, NJ (PRWEB) August 11, 2013
"Physical therapy software will see additional features added as more input is received from therapists. The updated EMR system is now much faster than the earliest versions, easier to use and designed to integrate with existing office systems," said Chhoda. "EMRs can be very expensive and more cloud-based solutions or outsourcing will be sought to save money. Two of the largest concerns for practice owners is the need for security and remaining HIPAA compliant, which will entail building stronger protections for patient information."
As the Internet evolved to meet the changing needs of users, EMRs will transform physical therapy management. The trend in physical therapy EMRs is toward expanded patient portals that require clients to accept more responsibility for their care, treatment and information. An EMR also facilitates communications between patients and therapists, making it as easy to exchange messages as it is to post on social media sites.
According to Chhoda, that part of the communication process will include transferability and access to records from anywhere in the world for enhanced patient care. Currently, client record sharing is a hodge-podge of access ranging from regional to statewide, depending on the provider and the EMR system in place. In an age of global travel, physical therapy management will include access to patient records among all providers for more effective treatment.
Mobile apps will play a key role and could eventually lead to a marketplace where therapists can pick and choose from selections compatible with specific EMRs to expand their range of options. This proliferation of apps will extend to EMRs, giving them additional flexibility.
Physical therapy management software provides clinic owners with the ability to delegate a variety of tasks to staff members that are currently handled by therapists. Prescription refills can be approved by trusted staff. Instructions, notes, x-rays and test results can be posted online instead of having patients return to the office. Backed by the data available in the EMR, errors are reduced while efficiency and accuracy are increased.
EMRs are assisting in reducing the number of expensive tests that include MRIs and CT scans, providing overall savings for patients and insurance providers. EMRs provide all healthcare providers with a comprehensive record of tests and procedure, saving time that can be better spent on treatments.
There are virtually no limits to the ways an EMR system can be utilized, giving rise to new and innovative means of communication and physical therapy management as information technology continues to evolve. Chhoda noted that trends for EMRs will continue to change as their usage increases, providing the means for better healthcare across multiple disciplines and more profitable practices.
Chhoda's office can be reached by phone at 201-535-4475. For more information, visit the website at http://www.emrnews.com.
About Nitin Chhoda
Nitin Chhoda PT, DPT is a licensed physical therapist, a certified strength and conditioning specialist and an entrepreneur. He is the author of "Physical Therapy Marketing For The New Economy" and "Marketing for Physical Therapy Clinics" and is a prolific speaker, writer and creator of products and systems to streamline medical billing and coding, electronic medical records, health care practice management and marketing to increase referrals. He has been featured in numerous industry magazines, major radio and broadcast media, and is the founder of Referral Ignition training systems and the annual Private Practice Summit. Chhoda speaks extensively throughout the U.S., Canada and Asia. He is also the creator of the Therapy Newsletter and Clinical Contact, both web-based services to help private practices improve communication with patients, delivery better quality of care and boost patient retention.