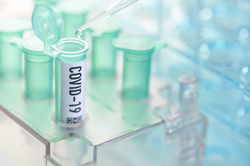 In the case of COVID-19 testing, we saw a need; we have the capability; and are doing our utmost to help overburdened test sites and hospitals during a difficult time.
TAMPA, Fla. (PRWEB) July 22, 2020
Physician Partners of America is now offering COVID-19 tests to patients throughout Florida, Texas and California.
"We're alarmed that cases of coronavirus continue to escalate in our markets, while availability of testing remains uneven," says Dr. Abraham Rivera, chief medical officer of Physician Partners of America. "We are making rapid-result tests available to our patients in the safest and most convenient way possible."
PPOA is not only set up to test patients at all its pain management clinics and ambulatory surgery centers; the company's CLIA/COLA-certified labs can turn around results in as few as 48 hours. This makes testing convenient and results fast and accurate. PPOA-managed labs are CLIA/COLA certified and follow EUA-COVID 19 protocol to deliver accurate results.
For most patients, insurance covers the cost of the test, a nasal swab test known as SARS-CoV-2. This molecular test determines a current infection whether the person shows symptoms or not.
While testing is available to established patients, the company expects to quickly expand capabilities to external physicians and their patients. For now, the tests are available on a first-come, first-served basis by appointment at PPOA clinics.
Testing capacity is expected to be between 600 and 700 per day with plans to add additional capacity soon.
This is only the latest effort by the company to serve patients during the pandemic. PPOA began widespread use of telemedicine to ensure safety of its interventional pain management patients.
"We have always aimed to serve our communities in multiple ways," says Dr. Rivera. "In the case of COVID-19 testing, we saw a need; we have the capability; and are doing our utmost to help overburdened test sites and hospitals during a difficult time."