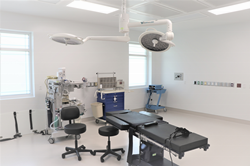 TAMPA, Fla. (PRWEB) January 29, 2020
To meet an exploding demand for outpatient medical services in southern Hillsborough County, Physician Partners of America (PPOA) is pleased to announce the grand opening of its newest multi-specialty facility, Sun City Center Ambulatory Surgery Center.
The state-of-the-art, purpose-built center is located at 916 Cypress Village Blvd., Ruskin, FL 33573, adjacent to the heart of Sun City Center and close to new developments.
Sun City Ambulatory Surgery Center offers a more convenient alternative to local patients, who would otherwise have to travel to larger cities like Tampa for outpatient procedures and endure overnight stays far from home.
It features two operating rooms, one procedure suite, six pre- and post-operative bays, clean and comfortable waiting rooms and ample, free parking.
As one of the nation's premier managers of outpatient surgical centers, PPOA offers doctors ultra-modern facilities and amenities, a veteran staff, and a business model that eliminates administrative burdens.
Sun City Ambulatory Surgery Center is Medicare-certified and AAAHC-accredited, which means it adheres to top patient care standards.
It was built to accommodate a wide range of medical specialties including interventional pain and spine procedures, cardiology, ENT, GI, general surgery, gynecology, ophthalmology, orthopedics and podiatry.
Interested physicians can arrange a tour or book appointments by calling toll free 1-855-568-DOCS (3627).
About PPOA:
Started in 2013 and headquartered in Tampa, Fla., Physician Partners of America (PPOA), is a national healthcare organization focused on strengthening the doctor-patient relationship and improving patient outcomes. PPOA, and its affiliates share a common vision of ensuring the wellbeing of patients and providing their physician partners the opportunity to focus on the practice of medicine. This model allows physicians to be physicians, caring about patients and their needs in the face of ever more complex administrative requirements. For more information about Physician Partners of America, visit http://www.physicianpartnersoa.com.