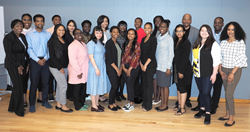 OAKLAND, Calif. (PRWEB) August 29, 2019
Physicians Medical Forum (PMF) a non-profit organization, provides a network that encourages and support high school, college/post baccalaureate medical students and residents pursue their goals to become physicians in the Oakland/San Francisco Northern California Bay Area.
To that end, PMF congratulates the students who completed its 2019 Community Health Ambassadors Internship Program (CHA), a 5-week program that develops and creates pathways for students interested in becoming doctors. PMF receives funding from The California Wellness Foundation, Kaiser Permanente Northern California Community Benefit Programs, and contributions from other funders and individuals. The CHA Program was held at Samuel Merritt University, Health Education Center in Oakland, CA and who partners with PMF on education, health and wellness initiatives.
Photo of Physicians Medical Forum and CHA Interns completing the program:
(L to R) Stalfana A. Bello, M.P.A., Executive Director, Physicians Medical Forum, Ugomma Eze, CHA Program Coordinator and UCSF Medical Student, Kaleb Damente, Amari Maze, Shannon Jones, Jennifer Martinez, Nisha Joseph, Felix Andam, Cadin Sablan, Makayla Matthews, Carleigh Williams, Mckenzi Thompson, Rebecca Yilma, Robert Bryant, Justine Thibeaux, Amanda Coleman, Alana Talley, Leyou Damente, Dr. Albert L. Brooks, President of PMF, Alexandra Guardado Menjivar, Robert Horne and Dana Abdelgadir, CHA Assistant Program Coordinator.
Stalfana Bello, M.P.A., Executive Director, Physicians Medical Forum said, "The Community Health Ambassadors Internship Program provides students, who will be first generation doctors in their families and communities, a snapshot of what it takes to become physicians and healthcare providers. Most of the students attended our "Doctors On Board Pipeline Program" and the internship is a natural next step to help students move forward in their journey to become doctors."
Alden (Chip) McDonald, M.D., F.A.C.C., (Interventional Cardiologist) and Physicians Medical Forum Board member stated that students explored a variety of topics including impacts of cardio-vascular diseases and health disparities. Dr. McDonald also discussed with students "the critically important role of the physician in patient's health and wellness and why they must seek and establish networks and mentorships that will provide them with better insight as they purse their journey to become physicians.
Laura Minikel, M.D. (OB/GYN) with Kaiser Permanente/Oakland said she enjoys working with the students and encouraging them to consider gynecology and obstetrics fields as well as other Primary Care specialties. Dr. Minikel, said that "there is a critical shortage of doctors in California, and indeed nationwide, and programs like the CHA internships are needed to prepare and increase the diversity pipeline of students."
Dr. Warren Strudwick, (Orthopedic and Sport Medicine) and CFO, Physicians Medical Forum said that, "Historically, African American/Black students have had limited access to higher education in the field of medicine. This remains to be a startling truth, even today. The Doctors On Board Programs and internships provides students with their 'first' critically important steps towards successfully managing their exciting journey to becoming doctors."
The Physicians Medical Forum is an Oakland, CA based non-profit 501(c)(3) whose mission is to encourage recruitment and retention of African American/Black and minority physicians to eliminate health disparities; improve access to care; and maintain diversity within the profession, thereby, improving the quality of healthcare for the community overall.
Other PMF programs and initiatives include: Doctors On Board Pipeline Program; Doctors Rock Workshop Series on Mentoring; MCAT & SAT/ACT Prep; Interviewing skills and writing personal statements; scholarships and stipends for post bac, medical students and residents; Scholarships for Visiting Elective Residency Programs at UC Davis and UCSF Schools of Medicine and UCSF Benioff Children's Hospital Oakland; physician education and development; networking with legislators and medical organizations and community outreach programs. http://www.PMFMD.com
EDITORS: The following are available for interviews. To arrange interviews, contact: Stalfana Bello | 510.562.5560 | ExecutiveDirector(at)PMFMD.com

Stalfana A. Bello, M.P.A, PMF Executive Director
Albert L. Brooks, M.D., PMF President
Alden (Chip) McDonald, M.D., F.A.C.C., PMF Board Member
Laura Minikel, M.D., Kaiser Permanente
Warren J. Strudwick, M.D., PMF CFO
2019 Community Health Ambassadors Interns
Please visit us at: WEBSITE: http://www.pmfmd.com FACEBOOK: https://www.facebook.com/pmfprograms/ LINKEDIN: https://www.linkedin.com/company/physicians-medical-forum YOUTUBE: http://www.youtube.com/channel/UCfmwV7dUax42_mmNJwGZrgw
PHYSICIANS MEDICAL FORUM
6114 La Salle Avenue, #601 • Oakland, CA 94611 510.562-5560 p • http://www.pmfmd.com
"The ultimate reason to become a medical doctor is to help people. PMF is in this business"