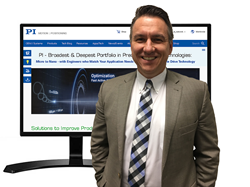 AUBURN, Mass. (PRWEB) January 28, 2020
PI (Physik Instrumente) L.P., a worldwide leader and solution provider in motion control and precision automation systems, announces Dave Rego as the new President of PI's North American Operations.
Rego has been with PI for 19 years, having grown within the sales operations and proven himself as a leader in progressive sales management. He built excellent relationships with key customers and gained a solid understanding of PI's manufacturing capabilities, an important factor in PI USA's future growth. Rego possesses a substantial and knowledgeable background in precision motion technology, leadership, and project management.
Rego holds a BS in Mechanical Engineering, a BA in German from the University of Rhode Island, and an MBA from Babson College.
PI congratulates Dave Rego!
Standard and Custom
PI has in-house engineered solutions with over 4 decades of experience working with customers to provide products that meet application demands, and can quickly modify existing product designs or provide a fully customized OEM part to fit the exact requirements of the application.
USA / Canada
http://www.pi-usa.us | info@pi-usa.us |(508) 832-3456
About PI
PI is a privately held company that designs and manufactures world-class precision motion and automation systems including air bearings, hexapods and piezo drives at locations in North America, Europe, and Asia. The company was founded 5 decades ago and today employs more than 1300 people worldwide. PI's customers are leaders in high-tech industries and research institutes in fields such as photonics, life-sciences, semiconductors and aerospace.
> READ the PI Tech Blog
> WATCH PI Videos on YouTube
> FOLLOW PI on Twitter
> CONNECT on LinkedIn