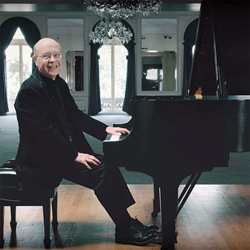 NEW YORK (PRWEB) May 29, 2021
Pianist Marjan Kiepura and narrator Jane Knox are hosting a new podcast series called Marjan's Musical Soirées - featuring artists, music and conversation.
This first podcast is dedicated to Frédéric Chopin's mazurkas. A dance form with special rhythms and accents, the mazurkas would become the most extensive of all of Frédéric Chopin's genre. Chopin composed 58 of these wondrous concert pieces for the piano. Publishers referred to them as "Souvenir de la Pologne", these gems would create the Polishness that we hear in his music.
Large color paintings featured in the video version of this podcast are by the noted Polish painter Zofia Stryienska, a gift to Marjan's parents, stars of opera, stage and screen, the Polish tenor Jan Kiepura and the Hungarian soprano Marta Eggerth.
Future podcasts will include a unique blend of music and conversation and feature artists that have been part of Marjan's own musical heritage. Music will include piano, opera, operetta and film.
Listen to Marjan's Musical Soirées on your favorite podcast player, YouTube or at http://www.patriamusic.com.