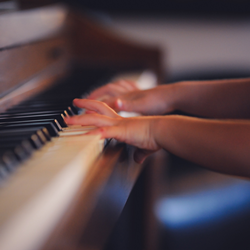 For all of these reasons, we are pleased to name Piano Marvel as our newest first-place winner among online providers of Piano Lessons in 2020
OVERLAND PARK, Kan. (PRWEB) March 05, 2020
TopConsumerReviews.com recently gave a best-in-class 5 star rating to Piano Marvel, a leader among online providers of Piano Lessons.
Being able to play the piano is a dream held by many people. Whether they have aspirations of appearing at Carnegie Hall, or love the thought of playing with other musicians, eager students often look long and hard for the perfect fit in Piano Lessons. However, coordinating busy schedules with teachers across town, or finding a way to work expensive lessons into an already-tight budget, can get in the way of learning to play the piano. Fortunately, there are now a number of affordable, effective sources of Piano Lessons online that make it possible for almost anyone to learn to play.
"If you're looking for an online piano learning tool that is trusted by college campuses around the nation, Piano Marvel should be the first resource on your list," according to Brian Dolezal of TopConsumerReviews.com, LLC. "This platform offers a level of versatility you won't find in other piano lessons: with options for individual students, universities and other schools, as well as music teachers, Piano Marvel makes it easy for thousands of students to learn to play. We especially love how Piano Marvel allows students to see what an instructor's hands look like while playing a piece of music on the keyboard, as well as letting them track their practice sessions and progress. Best of all, this company gives new users a 14-day refund period to try out all of the features and see how well the system works for them. For all of these reasons, we are pleased to name Piano Marvel as our newest first-place winner among online providers of Piano Lessons in 2020."
To find out more about Piano Marvel and other providers of Piano Lessons, including reviews and comparison rankings, please visit the Piano Lessons category of TopConsumerReviews.com at https://www.topconsumerreviews.com/piano-lessons/.
About Piano Marvel
Piano Marvel got its start in 2008 as the only subscription-based software for learning to play the piano online. Since that time, the company has continued to lead the online piano lessons industry with new innovations and features regularly being introduced. The ever-growing, large music library allows subscribers to choose from a wide range of music styles. Plus, Piano Learning Tools like Prepare Mode and Standard Assessment of Sight Reading make it possible for learners of all ages and experience levels to make progress easily and enjoyably.
About TopConsumerReviews.com
TopConsumerReviews.com, LLC is a leading provider of reviews and rankings for thousands of consumer products and services. From Piano Lessons to Guitar Lessons and Ballroom Dancing Lessons, TopConsumerReviews.com delivers in-depth product evaluations in order to make purchasing decisions easier.