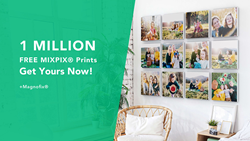 Picanova are giving away 1 million MIXPIX® (personalised photo tiles) at the MIXPIX.me website, absolutely free. Here's why they're launching what will surely be the most generous giveaway this year.
MIAMI (PRWEB) October 21, 2020
Picanova, one of the global market leaders in custom wall decoration products, have a long history of helping people celebrate their achievements. And now they're launching a massive giveaway of their MIXPIX® photo tiles to mark an achievement of their own – because their recent breakthrough in print hanging technology, Magnofix®, promises to change the wall decor industry forever.
Magnofix® is a groundbreaking new hanger system that looks set to render traditional wall-art hanging techniques obsolete. Combining magnetic and adhesive technologies, the ingenious new kit is a genuine game-changer. Installing your prints used to be a stressful and time-consuming chore. Thanks to Magnofix®, it will now take a matter of seconds.
So what exactly does the giveaway include? MIXPIX® are lightweight 20 x 20cm photo tiles which come printed with one's own photos, meaning each one is completely unique. The print quality is exceptional – customers can expect stunningly crisp definition and the richest colours. Each tile comes with the new hanger set included, and the whole package is offered absolutely free.
The Magnofix® hangers hold the photo tiles fast to the wall using magnetic strips – but the tiles remain just loose enough that they can be adjusted to achieve a perfect alignment. And if multiple tiles are displayed as a photo wall, they can be swapped round any time inspiration strikes to get a fresh arrangement.
The hanger design is simple but ingenious, comprising two magnetised strips. The first strip is stuck to the back of the MIXPIX® tile, the second is stuck to the wall. So the tile can be installed by simply bringing the two magnets together. Anyone can learn more about this novel product and claim their free MIXPIX® print at the giveaway page: https://www.mixpix.me/free/
Please note: there won't be any new stock coming in. Once the 1 MILLION MIXPIX® prints are gone, the giveaway must end. So anyone who wants to experience the future of home decorating is encouraged to waste no time…