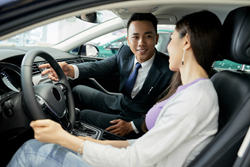 PICAYUNE, Miss. (PRWEB) November 08, 2018
No one will say that the car-buying process is easy. For the casual driver, trying to choose a new vehicle from the numerous options, each with their own advantages and disadvantages, can be practically overwhelming. It can be especially difficult to find a car that meets every need, especially when it comes to features. And keeping track of which vehicle model offers what, is also no easy task. Now, that research is a little easier thanks to the online tools from Nissan of Picayune.
The Picayune dealership offers a helpful tool on its website, http://www.nissanofpicayune.com, that is aimed to help customers sort through all the available vehicle options at their disposal. On the dealership's homepage, drivers can search for vehicles by vehicle feature.
Drivers are given numerous available and popular features to choose from, and they can select as many as they want. When a customer has chosen the features they feel they need in a new car, the tool will show them how many vehicles match their requirements in Nissan of Picayune's inventory.
For instance, if a driver wanted a vehicle that had a sunroof, a rearview camera and navigation system, the online tool would show them 18 matching vehicles in Nissan of Picayune's inventory. It's truly as simple as pointing and clicking, and Nissan of Picayune hopes it makes the car-buying process just a little simpler.
However, that's not the only shopping tool offered by Nissan of Picayune. Once they've found a couple vehicles they like, drivers can learn more by reading the available model research pages published by the dealership that go into more detail about the model. Or, they can read the latest posts from the dealership's blog that detail the latest news and updates about the model.
Drivers are also encouraged, if they have any questions about a vehicle in the dealership's inventory, to contact the staff of Nissan of Picayune through the website or by calling them directly at 601-300-6185. Those interested can also visit the dealership at 239 Frontage Road, Picayune.