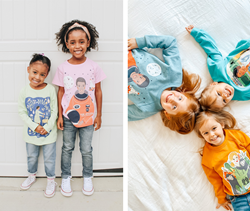 It's an honor to be recognized by Fast Company for Piccolina's leadership in displacing princess culture within the children's fashion industry.
NEW YORK (PRWEB) March 09, 2021
Piccolina has been named to Fast Company's prestigious annual list of the World's Most Innovative Companies for 2021.
The list honors businesses that have not only pivoted and shown resilience in the past year, but also turned those challenges into opportunities to make a lasting impact on their industries and culture as a whole.
"It's an honor to be recognized by Fast Company for Piccolina's leadership in displacing princess culture within the children's fashion industry," said Heide Iravani, Co-Founder and CEO, Piccolina. "Not very long ago we set out to create a brand that shows kids that they can do and be anything, and that parents can feel good about buying for their daughters. To receive this recognition alongside such esteemed brands as Gucci and Lululemon is both a privilege and further validation of Piccolina's position as a leader in our space. And the most exciting part of it all is that we are just getting started."
Founded in 2019 by two mothers who wanted to make it easier for parents to empower their children — especially their daughters — to dream big and defy stereotypes, Piccolina is a mission-driven lifestyle brand dedicated to inspiring today's little ones to become tomorrow's leaders and problem solvers. As moms to both girls and boys, Piccolina's co-founders Heide Iravani and Emily Clifford had a heightened awareness of the impact that gender stereotypes in kids' clothing design can have on young girls, and set out to build a brand that inspires all children to achieve their true potential.
Piccolina's commitment to social justice, equality and inclusion is at its core, with these values woven into every aspect of the business — from product design in collaboration with diverse female artists from around the world to production by female-owned manufacturing partners and its give-back programs in partnership with non-profit organizations, such as Malala Fund and Step Up, working on the ground to empower and educate children in the world's most vulnerable communities.
All featuring themes relating to education, exploration, adventure and social justice, Piccolina's clothing and accessories are designed to empower kids to embrace their curiosity and explore their interests. The brand's hero-product, the Trailblazer Tee, features colorful custom illustrations of history's fiercest female leaders such as Ruth Bader Ginsburg, Rosa Parks, Malala Yousafzai, and more. Piccolina also makes clothing with patterns designed around themes like paleontology, mountain climbing, robotics and more. Piccolina was just five months old when the world went into a global lockdown in the spring of 2020, but despite the challenges presented over the past year, the company has quickly and vastly expanded its product offering into new apparel categories and sizes — including baby and adults in addition to accessories and home decor. The digitally native lifestyle brand's rapid expansion during its short lifetime is a testament to consumer demand for a kidswear brand like Piccolina.
Fast Company's editors and writers sought out the most groundbreaking businesses across the globe and industries. They also judged nominations received through their application process. Piccolina was named among brands such as Gucci, Hermès, and Farfetch in the awards' Style category.
The World's Most Innovative Companies is Fast Company's signature franchise and one of its most highly anticipated editorial efforts of the year. It provides both a snapshot and a road map for the future of innovation across the most dynamic sectors of the economy.
"In a year of unprecedented challenges, the companies on this list exhibit fearlessness, ingenuity, and creativity in the face of crisis," said Fast Company Deputy Editor David Lidsky, who oversaw the issue with Senior Editor Amy Farley.
To coincide with the issue launch, Fast Company will host its first-ever Most Innovative Companies Summit on March 9 and 10. This virtual, multi-day summit will celebrate the Most Innovative Companies in business, provide an early look at major business trends, and offer the inspiration and practical insights on what it takes to innovate in 2021.
Fast Company's Most Innovative Companies issue (March/April 2021) is now available online here, as well as in app form via iTunes and on newsstands beginning March 16, 2021. The hashtag is #FCMostInnovative.
ABOUT PICCOLINA
Founded in 2019 by Heide Iravani and Emily Clifford, Piccolina is a mission-driven children's lifestyle brand dedicated to empowering today's young girls to become tomorrow's leaders and problem solvers. For more information, visit http://www.piccolinakids.com.
ABOUT FAST COMPANY
Fast Company is the only media brand fully dedicated to the vital intersection of business, innovation, and design, engaging the most influential leaders, companies, and thinkers on the future of business. The editor-in-chief is Stephanie Mehta. Headquartered in New York City, Fast Company is published by Mansueto Ventures LLC, along with our sister publication Inc., and can be found online at http://www.fastcompany.com.