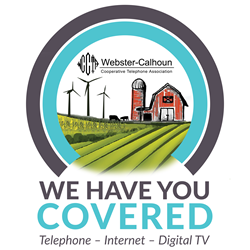 "This contest has become more popular each year we offer it," says Marcie Boerner, Office Manager with WCCTA. "We will also be sponsoring the March Mania contest during the NCAA basketball tournament
Gowrie, IA (PRWEB) January 17, 2017
Webster-Calhoun Cooperative Telephone Association members enjoyed participating in the annual Pick-It-Bowl Challenge that ended with the Clemson Tigers taking home the championship by beating the Alabama Crimson Tide.
This year there were 141 entries from members in the 16 communities served by Webster-Calhoun Cooperative Telephone Association. First place is Ina Lynch and who will receive a $200 bill statement credit.
The second place winner is Stacey Hay and she will receive a $100 Bill Statement Credit and third place goes to Colleen Palmer who will receive a $50 Bill Statement Credit.
The Pick-It-Bowl Challenge allowed participants to pick who they predicted to win the NCAA football bowl games and earned points for each game they picked correctly. The contest was conducted online and sponsored by WCCTA.
"This contest has become more popular each year we offer it," says Marcie Boerner, Office Manager with WCCTA. "We will also be sponsoring the March Mania contest during the NCAA basketball tournament for our members and to invite everyone to watch for the announcement when they can participate."
Webster-Calhoun Cooperative Telephone Association is located at 1106 Beek Street, Gowrie, IA 50543. It has a Fiber driven network and provides landline telephone, Internet and digital television service to the Iowa communities of Gowrie, Pilot Mound, Vincent, Thor, Churdan, Knierim, Somers, Barnum, Duncombe, Farnhamville, Badger, Clare, Moorland, Boxholm, Lanyon and Paton. http://www.wccta.net. #ThisIsFortDodge