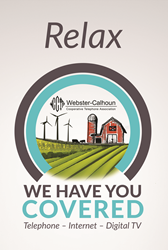 "We have offered this fun contest the last couple of years and participants really enjoyed competing against others in our community," states Marcie Boerner, Office Manager with WCCTA.otable
Gowrie, IA (PRWEB) March 02, 2017
March Mania is a fun way to enjoy the NCAA Basketball season at Webster-Calhoun Cooperative Telephone Association (WCCTA).
Dates for this year's March Mania are March 12th as Selection Sunday where brackets are announced, March 16th the bracket games begin and participants can no longer fill out brackets. April 1st is the Final Four with the Championship Game to be played on April 3rd.
It is so easy to play. Just fill out the bracket by clicking the name of the team to win each game. After completing the bracket, click submit and enter the information requested. Once the NCAA games begin, email updates will be sent out to show pick rankings against others in the community.
WCCTA will be handing out prizes to the top three winners. All the information can be found on the website at http://wccta.pickitchallenge.com.
"We have offered this fun contest the last couple of years and participants really enjoyed competing against others in our community," states Marcie Boerner, Office Manager with WCCTA. "This time of year it is fun to join in on all the excitement of the NCAA Tournaments".
Pick-It March Mania starts on March 12th but registration is now open.
Webster-Calhoun Cooperative Telephone Association is located at 1106 Beek Street, Gowrie, IA 50543. It has a Fiber driven network and provides landline telephone, Internet and digital televisions service to the Iowa communities of Gowrie, Pilot Mound, Vincent, Thor, Churdan, Knierim, Somers, Barnum, Duncombe, Farnhamville, Badger, Clare, Moorland, Boxholm, Lanyon and Paton. Additional information is available by calling 515-352-3151 or visiting http://www.wccta.net. #ThisIsFortDodge