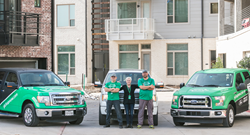 Our focus is to help our retail partners create "WOW" delivery experiences that are a seamless extension of their brand, so they can win more customers and keep them forever
DALLAS (PRWEB) November 13, 2018
PICKUP, the trusted Last Fast Mile® for large-item delivery, has closed a $5 million funding round led by TDF Ventures and Noro-Moseley Partners. Engage, an Atlanta-based venture fund, also participated in the round. The funds will be used to accelerate market expansion, grow the product platform and add staffing in key areas.
Last-mile delivery is especially difficult for oversized items such as furniture, where retailers face challenges with rising customer expectations in speed, flexibility and quality. PICKUP's trust-verified Good Guys, which include military veterans, help retailers drive sales conversion and delight customers by enabling frictionless delivery of large items over the threshold and into the customer's room of choice. The company's intelligent platform is capable of seamlessly dispatching product delivery to the nearest qualified Good Guys in as little as 30 seconds, enabling retailers to create a best-in-class delivery experience while capturing decision-quality data to improve business outcomes.
"Our focus is to help our retail partners create "WOW" delivery experiences that are a seamless extension of their brand, so they can win more customers and keep them forever," says Brenda Stoner, CEO of PICKUP. "The Good Guys are the best in the business and we continue to partner with top retailers as we strive to reach our goal of creating the leading last mile delivery service. This funding will fuel the resources and talent to scale our geographic coverage and technology capabilities, so we can reach more cities, more stores and more customers."
"We are excited to partner with PICKUP on the changing dynamics of the last mile. Retail supply chains are rapidly shifting to accommodate local inventory driving a need for new options in delivery," says Jim Pastoriza, Managing Partner of TDF Ventures. "The Company has formed strong partnerships with leading retail brands who want to bring PICKUP's trusted Good Guys to more cities, representing a wide open growth opportunity. We're delighted to support this innovative team."
"Customer-controlled last-mile delivery is a game changer for retail brands, providing benefits in sales performance, customer experience and real-time logistics," says Alan Taetle, Noro-Moseley Partners. "PICKUP accelerates this transition by eliminating the restrictions of traditional home delivery, such as limited visibility, speed and customization options."
About PICKUP
PICKUP is the Last Fast Mile® for large-items and one of the nation's fastest growing on-demand logistics networks. The Company features trusted Good Guys delivering oversized retail items, including furniture and mattresses, into the customer's room of choice in as little as one hour. PICKUP has partnered with leading retailers to transform the delivery experience - improving sales conversion, basket size and customer delight. The Company's intelligent platform supports the industry's biggest brands enabling seamless experience from Register to Room. PICKUP currently operates in 26 markets and reaches 100MM consumers – with aggressive expansion plans. To learn more about PICKUP including career opportunities, please visit http://www.pickupnow.com.
About TDF Ventures
TDF Ventures invests in seed and Series A stage start-ups focused on infrastructure, software, and services (IaaS, SaaS, XaaS). We invest from a $150M permanent pool of capital and are currently investing out of Fund IV. Current areas of focus include cybersecurity, cloud services, data, edge computing, networking, financial technology, business process automation, satellite, mobility, AI/ML, and anything as a service. TDF has offices in Washington, D.C. and Silicon Valley. For more information, visit http://www.tdfventures.com.
About Noro-Moseley Partners
Noro-Moseley Partners, based in Atlanta, is an early growth equity firm that invests in information technology and healthcare businesses with rapidly scaling revenue. Since 1983, NMP has been a leader in its market, investing more than $770 million in 200 companies. NMP has built a strong network of successful entrepreneurs, strategic partners, management talent and value-added co-investors to support our portfolio companies. For more information, visit http://www.noromoseley.com.