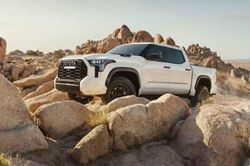 ORANGE, Texas (PRWEB) December 28, 2022
Since their transition from only-work vehicles to commercial passenger vehicles, pickup trucks are gaining popularity among drivers. Drivers who want to buy a new truck near Orange in Texas can buy them from the Cecil Atkission Toyota dealership. The latest 2023 Toyota Tundra SR5 is now available for purchase here. Drivers who love powerful, capable and tech-savvy pickup trucks should explore this vehicle right away.
Interested buyers can check out the new 2023 Toyota Tundra SR5 via the dealership's website. The inventory listing available there is comprehensive and covers all details related to vehicle data, payment methods and offers. People who can visit the dealership directly can test drive the 2023 Toyota Tundra SR5. This gives them an opportunity to experience how the truck behaves on the road. The truck comes with a powerful 3.5L V6 i-Force engine that offers high-end power and performance.
Buyers can log on to the ceciltoyota.com website to learn about the Toyota vehicle deals and services available at the Cecil Atkission Toyota dealership. For detailed information on the mighty 2023 Toyota Tundra SR5, buyers are requested to meet the dealership team at Cecil Atkission Toyota, 2500 IH-10 West, Orange, TX 77632 or contact them by phone at 833-378-1225.