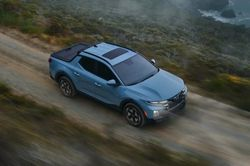 SCRANTON, Pa. (PRWEB) February 03, 2023
Drivers who enjoy robust and well-designed pickup trucks should explore the lineup available with Hyundai. Its Santa Cruz model has been popular among truck enthusiasts for its rugged build and massive capability. The new version of this vehicle, the 2023 Hyundai Santa Cruz, is now available for purchase at our dealership. It is also available in multiple trim levels.
Interested buyers who stay close to the dealership's location can visit and explore the 2023 Hyundai Santa Cruz in person. They can test drive the truck and analyze how it performs in real-time. This is an excellent opportunity for them to test out the new features and upgrades available in the truck. Customers who are not near the dealership can browse our detailed website and check out the 2023 Santa Cruz's inventory page. It has all the technical specifications and other important details pertaining to the truck.
Customers are encouraged to visit the dicksoncityhyundai.com website to learn about the vehicle services and Hyundai deals available at the Dickson City Hyundai dealership. For more details on the power-packed 2023 Hyundai Santa Cruz truck, they can visit the dealership at 1519 Scranton Carbondale Highway, Scranton, PA 18508 or contact them by phone at 570-487-3095.