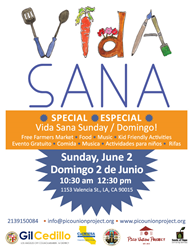 Vida Sana is a great opportunity to open our doors to our neighbors, share food with them, and strengthen the community. -Craig Taubman, Founder of Pico Union Project
LOS ANGELES (PRWEB) May 28, 2019
Pico Union Project's Special Vida Sana Health and Wellness Fair.
PUP is thrilled to host a special Vida Sana on Sunday, June 2, 2019 from 10:30am - 12:30pm at the Pico Union Project. This program is made possible in part through a grant from the Los Angeles County Department of Mental Health as part of Wellbeing Community Engagement.
Pico Union Project is passionate about bridging communities and putting the principles of "love thy neighbor" into action. Vida Sana is one of our flagship programs that we use to connect our community to valuable services and resources. Furthermore, Vida Sana provides an opportunity for community residents, volunteers, and service providers to engage in meaningful interactions and cultural experiences.
This special Vida Sana event will be similar our bi-monthly event, but on a grander scale. The Vida Sana Health and Wellness Fair is free to the public. Adults and children will enjoy fresh produce from the Farmer's Market, healthy cooking demonstrations, art projects, games, music, food, haircuts, workshops, and resources from a wide network of social and health service organizations.
It takes a village: Looking for volunteers and community partners to support our mission and help us grow Vida Sana into a robust program. Please get involved in the following ways:
Partners and Vendors
PUP welcomes you or your organization to provide information, resources, and/or services to Vida Sana attendees. Interested in partnering with organizations that provide services and or resources that serve to empower and support individuals and communities in the areas of self-advancement, health and education, and personal enrichment.
Volunteers
Come volunteer in the community to assist with setup, food distribution, facilitation of youth activities, and general event coordination. All are welcome and appreciate your participation in any way that best supports your unique skills, talents, and preferences.
Donations
Donate clothing, toys, non-perishable foods/snacks, and personal hygiene items if you are unable to attend the event.
For more information about Vida Sana or to get involved please contact Pico Union Project Manager Lauree Martin at (213) 915-0084 or info@picounionproject.org.
"The greatness of a community is most accurately measured by the compassionate actions of its members" ~ Coretta Scott King