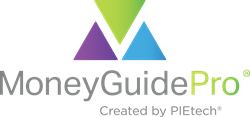 POWHATAN, Va. (PRWEB) August 07, 2018
PIEtech®, the creator of the leading financial planning software for advisors MoneyGuidePro®, announced today the completion of a deep integration with Wealth Access, the industry's largest independent personal financial management and account aggregation platform, providing a comprehensive portal experience for advisors and investors.
"At MoneyGuidePro®, we encourage clients to focus on the long-term but understand an advisors' need to give their clients the ability to see their whole financial picture in one place. By integrating our two portals and incorporating our Confidence Meter into Wealth Access, we can keep clients focused on the long-term financial plan and hopefully, prevent them from making short-term, irrational investment decisions. With Wealth Access, we have created a best-of-breed, deep, two-way integration that we strive for. This way, we both get to develop what we're best at," says Kevin Hughes, Executive Vice President, Head of Sales at PIEtech.
Advisors can easily sync financial data from Wealth Access to MoneyGuidePro, saving time and resources. The integration also enables advisors to send financial plans and other reports from MoneyGuidePro to the Wealth Access digital vault, allowing for a seamless flow of information between the two platforms and from advisor to client.
Clients and prospects now have single-sign on into MoneyGuidePro from the Wealth Access client portal and have new ways they can engage with advisors. In a click, clients can see the impact of potential changes to their financial plan through the implementation of the MoneyGuidePro Confidence Meter into the Wealth Access portal.
"Enhancing client engagement through digital experiences is critical in the financial services industry, especially when leading with a goals-based approach," said Bill Martin, CFA, Chief Investment Officer at INTRUST Bank. "The enhanced integration between Wealth Access and MoneyGuidePro will further enable advisors like ourselves to execute our strategic initiatives of operating a robust digital experience where both advisors and clients benefit and can view everything they need all in one place."
"MoneyGuidePro® is a leader when it comes to creating inventive, forward-thinking financial planning solutions," said David Benskin, CEO at Wealth Access. "Our clients have asked for a deeper integration, and we're excited to offer a partnership that provides real value in the daily lives of advisors, giving them the tools they need to communicate easily and instantly with their clients."
The Wealth Access and MoneyGuidePro® integration is now available for all users of both platforms. To get a closer look of the full capabilities and benefits of the partnership, register here for the joint webinar on August 28, 2018 at 4:00 pm ET.
About Wealth Access
Wealth Access is an innovative wealth management technology firm that provides reporting solutions for the high net worth advisor and investor community. Its proprietary and diagnostic cloud-based platform aggregates information from more than 20,000 financial services institutions and various holdings to deliver an aggregated view, allowing for better decision support in investments, tax planning, insurance and other complex situations faced by high net worth individuals. Founded by a former Merrill Lynch high net worth advisor, Wealth Access provides a complete platform for advisors to collaborate with other professionals and position themselves central to their clients' lives. Headquartered in Nashville, TN, Wealth Access is backed by successful investors and notable wealth management technology platforms. For more information about Wealth Access, visit http://www.wealthaccess.com or follow Wealth Access on Twitter at @ASmarterLook.
About PIEtech
PIEtech, Inc. is singularly focused on helping more Americans control their financial future and security by planning for it. Headquartered in Powhatan, VA, PIEtech® is the creator of MoneyGuidePro®, a financial planning software. For more information on PIEtech's powerful planning solutions, visit http://www.moneyguidepro.com.