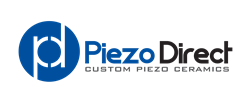 BURLINGAME, Calif. (PRWEB) November 12, 2020
Piezo Direct has a hugely successful track record of designing and manufacturing high quality and intricately complex customized piezoelectric ceramics. Piezo Direct specializes in custom piezoelectric sensors, transducers, actuators, and atomizers for a wide range of industrial and commercial markets. They excel in manufacturing and delivering highly customized piezo elements designed for essentially any industry, from aerospace and automotive to medical and IOT. Backed by a small, yet dedicated team of skilled engineers, Piezo Direct has consistently supported many projects with precision, expertise, and continuous improvement. They truly champion the limitless possibilities of piezoelectric ceramics and are proud to develop products that genuinely contribute to the development, progression, and improvement of conventional and novel systems.
The Piezo Direct website has recently been updated to now include a detailed technology overview feature for Standard Products, including multilayer piezo stack actuators, circular piezo ceramic actuators, piezo bending actuators, and piezo atomizers. While these pieces are not available off the shelf, they are standard products that can be produced with the listed specification references or custom specifications. Each product page provides detailed information of applications, features, and specifications of these Standard Products in a simple, user friendly design.
Piezo stack actuators are often used as linear electromechanical drivers to generate small and precise displacement. The technology overview of these piezo actuators focuses on the applications, shapes, specifications, and testing method. Applications of multilayer piezo actuators are extremely vast, including nano-positioning, OClics, medical and life science, aerospace, automotive, and injection systems. Along with the stack shaped multilayer actuator, Piezo Direct also offers piezo ring actuators, piezo tube actuators, and custom shapes. All piezo actuators can be made according to standard specification references or custom requirements. The new testing method section provides an in-depth guide for testing, mounting, and connecting multilayer piezoelectric actuators.
Circular piezo ring actuators include piezoelectric bimorphs and unimorphs which deform when a voltage is applied. As listed in the technology overview, these small and lightweight piezoelectric ring actuators have low power consumption, fast response time, and controlled flow rate, making then widely used in air and fluid pumps, medical equipment, and various applications. Piezo Direct also lists recommended operative conditions and standard specifications for piezo ring actuators.
Piezo strip actuators also include piezoelectric bimorphs and unimorphs and bend when a voltage is applied. As listed in the technology overview, piezo strip actuators are small, consume little power, generate large displacement and force, have face response time, and are extremely reliable. Strip actuators are widely used in industrial applications for Weft and Weave machines, optical systems, valve controls, Braille readers, and printers.
Piezo atomizers ultrasonically vibrate and atomize liquid when an electrical signal is applied. Piezo Direct makes both single chip and sandwich piezo atomizers. As listed in the technology overview, piezo atomizers have very fine particle sizes, low noise, and low power consumption. They are often used in commercial devices, such as humidifiers, fragrance, and disinfection applications. Again, Piezo Direct provides specification references for all standard products, but can produce high customized components.
About Us
Piezo Direct has streamlined the NDA quoting process to allow for reliable communication during the launch and testing process. For highly customized piezoelectric sensors and transducers, piezo strip and stack actuators, piezo atomizers, and piezo discs, plates, and bimorphs, contact Piezo Direct to ensure your project is backed by high quality engineering and ongoing support. Piezo Direct is a design and supply partner trusted by many as a top of the line piezo ceramic manufacturer. Please visit http://www.piezodirect.com for more information on piezo actuators, piezo atomizers, and piezoelectric transducers and piezoelectric sensors, or email high quantity custom piezo requests to info@piezodirect.com.