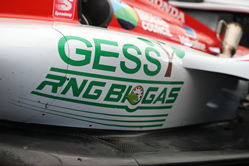 What an amazing opportunity for GESS International to join forces with IndyCar...excited to see what happens when the fastest growing biogas company in the industry teams with the talented rookie drivers Patricio O'Ward & Colton Herta. Get ready; Indy Racing has made a turn to the future.-Shaun Lee
LONG BEACH, Calif. (PRWEB) April 12, 2019
GESS International along with the American Biogas Council will sponsor Patricio O'Ward for this weekend's Acura Grand Prix at Long Beach while continuing as an associate sponsor of the No. 88 Honda-powered Indy car driven by Harding Steinbrenner Racing's Colton Herta. This shared sponsorship is a reverse of last weekend, as the O'Ward's Carlin team featured associate sponsorship from the companies in Alabama, and now with the series' move to California, GESS and ABC also move from the No. 88 and take the primary sponsor role on to No. 31. The sponsorship by GESS is rather unique, as the company has chosen to support up and coming NTT IndyCar Series drivers for select events in place of signing with a specific team. Moreover, GESS is rather unique. Located worldwide with offices in London, Ukraine, and throughout the United States, GESS International offers solutions in the field of "green" energy and energy efficiency for the private sector, budgetary organizations, and business. Their specialization includes energy efficiency, co-generation, and renewable energy sources.
As an energy service company with twenty-one years of energy efficiency and renewable energy experience, GESS International is developing Biogas anaerobic digester plants across the United States and is utilizing solar to help lower the carbon intensity by offsetting the use of fossil fuels to power these plants.
"Investing into renewable energy projects provides opportunities to simultaneously generate significant financial returns while mitigating or addressing societal and environmental challenges," said Olga Brizhan, the Director of GESS International.
With the love of auto racing and the need to raise awareness and promote biogas, GESS Director of Field Operations Shaun Lee found the perfect fit with IndyCar. GESS auspiciously "knocked it out of the park" first sponsoring Harding Steinbrenner Racing rookie Colton Herta, who became the youngest race winner in IndyCar history with a win at COTA in Austin. This comes to no surprise as GESS continues to succeed in landing major green energy projects across the country, a win not only for their sponsors but most importantly for the environment.
"What an amazing opportunity for GESS International to join forces with IndyCar", said Shaun Lee of GESS International. "As a racing enthusiast, I am very excited to see what happens when the fastest growing biogas company in the industry teams with the talented rookie drivers Patricio O'Ward and Colton Herta. Get ready; Indy Racing has made a turn to the future."
Opening practice begins Friday, April 12, at 10:00 a.m. PT. Live coverage from the Acura Grand Prix of Long Beach can be found on the NBC Gold App and continues through each practice and qualifying session of the race weekend. Race day coverage will be live on the NBC Sports Network at 1:00 p.m. PT.
About the GESS International North Carolina, Inc.
GESS International North Carolina, Inc. is a Headquarter of GESS group of companies (GESS) located in Raleigh, North Carolina, and is a highly experienced and globally established renewable energy service company. With over 350 completed projects worldwide, GESS has over 21 years of expertise in providing energy-efficient solutions using co-generation and renewable energy resources such as solar and biogas. From consulting to managing operations of our completed projects, GESS offers design and implementation solutions with a direct economic impact for its partners, customers, and their communities.
About the American Biogas Council
The American Biogas Council is the only national trade association representing the entire biogas industry in the U.S. The ABC represents over 200 companies in all parts of the biogas supply chain who are dedicated to maximizing the production and use of biogas and digestate from organic waste. Find us online at http://www.AmericanBiogasCouncil.org, Twitter @ambiogascouncil, LinkedIn in the American Biogas Council group and on YouTube.