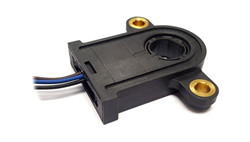 WILMINGTON, Mass. (PRWEB) September 30, 2019
Heilind Electronics, a leading global distributor of electronic components, has added Piher Sensors & Controls to its growing list of Amphenol sensor franchises. As an authorized Piher distributor, Heilind will offer both standard and custom-engineered solutions for harsh environment applications.
A key part of Heilind's Piher offering will be position sensors utilizing non-contacting sensing technology. Currently in stock at Heilind, these units provide fully magnetic Hall Effect contactless position feedback in through-shaft configurations. In addition to Hall Effect, touchless and inductive sensors, Heilind's Piher portfolio will include position and speed sensors, printed electronics, potentiometers, seat belt sensors, encoders and HVAC sensors.
"We are proud to partner with Piher, who has over 60 years of experience developing both standard and custom sensor solutions," said Glen MacGibbon, Vice President of Business Development - Sensors, Heilind Electronics. "Our customers will now have access to some of the most innovative rugged position products in the market, including the ability to customize."
Piher complements Heilind's other recent Amphenol sensor franchises, including All Sensors and SSI. Piher's products are used in HVAC (climate control), consumer appliance, industrial controls, automotive AFL (adaptive front lighting), off-highway vehicle, instrumentation, medical, power tool and hundreds of other human interface applications.
Visit Heilind's website for more information on Piher sensor solutions.
About Heilind Electronics
Heilind Electronics, Inc. (http://www.heilind.com) is one of the world's leading distributors of connectors, relays, sensors, switches, thermal management and circuit protection products, terminal blocks, wire and cable, wiring accessories and insulation and identification products. Founded in 1974, Heilind has locations throughout the U.S., Canada, Mexico, Brazil, Germany, Singapore, Hong Kong and China. Follow Heilind on Facebook at facebook.com/Heilind and on Twitter at twitter.com/Heilind.
About Piher Sensors & Controls
Piher Sensors & Controls specializes in manufacturing standard and custom controls and sensor solutions, including contactless technologies. Piher has an outstanding track record in the development of rugged electronic components for the automotive, off-road, aerospace, industrial, marine and appliance sectors.