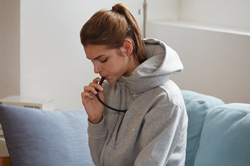 COSTA MESA, Calif. (PRWEB) October 25, 2019
Outerwear apparel startup, Coversomeone, has announced that they have raised beyond their initial funding goal of $10,000 on Kickstarter for its flagship product, Pillowdy Hoodie & Pillowdy Windbreaker in under 18 hours.
The Pillowdy hoodie is made from double-layered premium cotton with a circular knitting pattern which has been specially processed to prevent damage and deformation which typically occurs over time. The particular cotton that has been used rivals that of stretchy fabric that has been used by major retailers.
The Pillowdy windbreaker is made from stretchable, water repellent nylon fabric that allows it to be weatherproof and folded into the size of a small napkin. An extended hood brim has also been built into the overall design in order to protect the user from light rain showers.
Both products include a built-in neck pillow which can be inflated in seconds with an air hose that is located in a breast pocket. Zipping up the pocket completely conceals the air hose.
During travel, Pillowdy is particularly handy because the user can take short breaks on-the-go. The inflatable neck pillow provides support for the neck and head in a natural position, even in situations where it might seem unlikely. It can be used on a bus, train, plane, or even on a park bench.
Pillowdy items are available in multiple colors and consumers will have their choice of pre-ordering until December 6th. The 15 features offered by Pillowdy are worth $300 or more and during their Kickstarter campaign, the outerwears can be pre-ordered starting at $99.
For more information visit Pillowdy on Kickstarter or at Pillowdylab.com