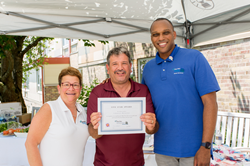 DOYLESTOWN, Pa. (PRWEB) July 16, 2019
Pine Run Retirement Community, one of Bucks County's leading senior living and senior care providers, recently recognized numerous associates for the excellence and dedication they devote to their work every day.
Executive Director Maria Santangelo said, "Our Associates are the heart and soul of the Pine Run community. To paraphrase Fred Rogers, 'As human beings, our job in life is to help people realize how rare and valuable each one of us really is, that each of us has something that no one else has—or ever will have—something inside that is unique to all time. It's our job to encourage each other to discover that uniqueness and to provide ways of developing its expression'. Pine Run's Associate Appreciation Day is an annual celebration of the uniqueness each of our Associates brings to Pine Run Retirement Community every day."
Santangelo and her Senior Leadership Team presented several awards, including the 5-Star Award, Angel Awards, and Achievement Awards, to numerous associates during the organization's annual Associate Appreciation Day, held this year on June 28.
The 5-Star Award was presented to IT Associate Lawrence McGlynn for exemplifying Pine Run's "Make their Day!" philosophy. Leaders said McGlynn "always raises the bar" when it comes to helping Pine Run Retirement Community residents with their cable, phone and other technology-related needs. He also volunteers on several committees to plan and organize projects and events, including the annual Associate Appreciation Day festivities.
Pine Run Retirement Community leaders also presented numerous associates with the organization's Angel Award, which recognizes those who exhibit exceptional customer service and teamwork. Pine Run Retirement Community associates who received the Angel Award include:

Wendy Stubb, Garden Administration, Life Enrichment Associate
Anita Brooks, Companion Services, Manager Special Care & Companion Services
Susan Barger, Financial Services, Controller
Cheryl Kline, Education, Director of Education
Kareem Watkins, Security, EMT/Security Officer
Virginia Gruver, Transportation, CDL Driver
Ralph Mazza, Grounds, Grounds Associate
Timothy Hayes, Transportation, Lead CDL Driver
Raymond Weston, Garden Resident Care, Certified Nursing Assistant
Kimberly Berry, Garden Resident Care, Certified Nursing Assistant
Irish Lizette Wagner, Garden Resident Care, Certified Nursing Assistant
Judit Bognar, Garden Resident Care, Certified Nursing Assistant, Team Leader
Karen Gill, SNF, Certified Nursing Assistant
Cynthia Lynch, Financial Services, Senior Accountant
Kevin Kelly, Plant Ops-IL, Maintenance Mechanic 2
Emily Reinert, Garden Administration, Director of Life Enrichment
Daniel Neagley, Human Resources, HR Generalist
Lakeview associates who received the Angel Award include:
Tracy Brown, Resident Care Lakeview, Director Resident Care
Reina Tuci, Administration Lakeview, Concierge
Eric Fillius, Plant Ops. Lakeview, Maintenance Mechanic 2
Achievement Awards were presented to 22 associates who graduated high school this year and 12 associates who graduated from college or received professional certifications.
Founded in 1976 and owned by Doylestown Health since 1992, Pine Run Retirement Community has been a staple of the local community for 43 years. In addition to its senior services, Pine Run Retirement Community offers dementia education programs and community wellness seminars hosted by Doylestown Health and Pine Run Retirement Community's trusted rehabilitation professionals. It offers more than 400 group activities each year for independent living residents, and puts on an annual Art Show and Fall Festival. This year's Fall Festival will be held on Oct. 5 during grand opening festivities of the Hub, Pine Run's new dining, activity and community center.
About Pine Run: Pine Run Retirement Community in Doylestown, Pennsylvania is one of Bucks County's leading senior living and senior care providers with 272 independent living cottages and 24 apartments situated on a beautiful 43-acre private campus. The campus is home to Pine Run Health Center which offers rehabilitation services and 90 skilled nursing beds; The Garden, a 40-bed, secure dementia neighborhood on the top floor of the Health Center; and The Willows, an intimate setting for end-of-life care, including palliative, comfort and hospice services. Pine Run Lakeview is a 107-bed personal care residence owned and operated by Pine Run Retirement Community and located on Lower State Road in Doylestown. Generations of families have turned to Pine Run for the certainty of comforts and services in the bonus years. Call 800.992.8992 to learn more about independent living, personal care, or skilled nursing and rehabilitation programs or search http://www.pinerun.org.