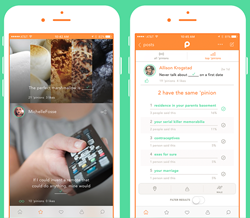 "I really believe 'Pinion has the power to change the way social media platforms are used." - Trevor C
Minneapolis, MN (PRWEB) July 31, 2017
Midwest based tech startup Opinulate launches their app: 'Pinion. A truly new player in the social media world, 'Pinion is a free app that allows users to 'fill in the blank.' With an elegant design and intuitive interface that support both photos and video, users can pose, respond to, or merely enjoy scrolling through endless fill-in-the-blank queries. From the meaning of life to the world's best french fries, there are no limits on what 'Pinion users can ask, answer, share, and experience.
Inspiration to Development
When discussing the impetus for 'Pinion's creation, founder Paul Chapin states: "What better way to gauge the social perception of a topic than to frame a query with a strategically placed blank space? I grew up watching TV game shows like Family Feud and Match Game, and it was fun guessing how people would 'fill in the blank' and wondering what the 'survey says'."
The process of development involved a multi-year exploration of the app's potential, including building iterations and a community of beta-users out of Minneapolis, MN. With a full team behind it, 'Pinion has flourished from an idea into a relevant social media platform.
A Community that is Inquisitive, Responsive and Fun

"As a user I appreciate that it delivers exactly what it promises. In this digital age we go to the Internet for everything. We are constantly curious about what others think, and this app solves that craving in a fun way. I enjoy reading all the off- the-wall answers; they often give me a giggle while on a break in the middle of a hectic day." — Allison K
"I like how easy it is to pick up at any time and see something interesting. You don't have to be on it all the time or risk feeling like you're missing something. It's also been a lot of fun to see the sense of community develop; personalities definitely come out with how people ask and answer questions." — Scott S
App Connects & Gathers Valuable Insight
'Pinion is and will remain 100% free to iPhone and iPad users on the App Store. The true value comes from the ability to ask and share honest viewpoints about the world. Chapin explains: "As an advertising agency owner, I've always been interested in data. People's opinions and behaviors shape what we create for our clients. That data can be expensive and difficult to get. Social media has given us tools and methods to gain a deeper understanding of diverse audiences, and that is immensely valuable."
About Opinulate
Based in Minneapolis, MN tech startup Opinulate is the developer of 'Pinion-a free social media platform that allows users to post and respond to endless topics. Conceived by entrepreneurs Paul Chapin and Terry Anderson, and with the genius of lead developer Jesse Hemingway, 'Pinion will collect and aggregate every possible 'fill in the blank' response from anyone that wants to participate, and will generate the largest database of Raw Primal Data (RPD) ever assembled at any given moment. It will create the social DNA to any and every imaginable topic via an honest, emotional and spontaneous reaction to any subject framed in a specific way, defined only by the imagination of its participants.